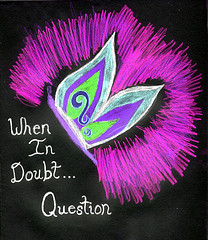 I once only doubted my faith and believed my doubts. I have learned, and continue to learn, to doubt my doubts and believe my faith.
My faith is as strong as it is because my doubt was as strong as it was.
In the continuing study of James we pause for one more day, on one word…
…doubt.
This is the third day of this story, part one is here, part two is here, just in case you'd like to see.
He walked into the dimly lit room and noticed, next to an overhead projector, on a stand, a book. It was a Jewish book of meditations and prayers. Picking up the book, and feeling close to something important, he headed toward the front of the room — to where the Torah stood encased in gold.
He sat down in the front row. He prayed to the Father, letting Him know he was interested in His thoughts. For his part, he had one thing on his mind.
…doubt.
He felt what he was about to read was important enough to record as he read. So although he can't say which meditation this was, or which book of Jewish meditations it came from, he can say that the words are quoted verbatim. He opened the book, and the first words he read were:
"For doubt is the handmaiden of truth."

Yes it did happen, and yes this is what the book said:
Doubt is the key to the door of knowledge; it is the servant of discovery. A belief which may not be questioned binds us to error, for there is incompleteness and imperfection in every belief.  Doubt is the touchstone of truth; it is an acid, which eats away the false.  Let none fear the truth, that doubt may consume it, for doubt is a testing of belief.  For truth, if it be truth, arises from each testing stronger, more secure.
Those who would silence doubt are filled with fear; the house of their spirit is built on shifting sands. But they that fear not doubt and know its use are founded on a rock. They shall walk in the light of growing knowledge; the work of their hands shall endure.
Therefore, let us not fear doubt, but let us rejoice in its help.  It is to the wise as a staff to the blind.  Doubt is the handmaiden of truth.
I read that book two decades ago. And yes, "he" is me. It wasn't the day all my doubts were answered. It was just the day that I was told it was OK to doubt. I was reassured that I wasn't alone in the doubting.
It took another 20 years to address every doubt. For there were legions of them. I say this with humility – a humility borne out of crushing. There are few questions of faith or doubt that someone could ask me, that I cannot answer. Not because I'm smart, or special. But because I doubted so much, and didn't rest until I found an answer for each one.
Truth be told. One of the reasons I never became a pastor, was that I doubted the existence of God well after graduating Seminary. And although it's fine for someone to be sitting in the pew, in doubt – I didn't feel it was right to stand in the pulpit – doubting.
I believed,
but I doubted.
I no longer doubt.
I keep coming back to this battered angel print.  I know. I can't help it. But as I leave this little trek into doubt behind, she has left an imprint on my heart. I will save enough money to buy this print. It's not cheap. But it's feels mine. If God sends guardian angels to help us – then I think mine looks like this.
I'm sorry angel.