The big thing is that I shouldn't be all asky for the wisdom, which I need to get through the trials, if I'm gonna be all doubty about it.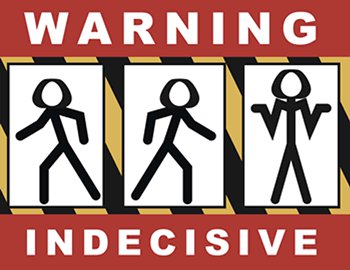 After three days hovering over the word "doubt" part 1, part 2, and part 3,  I remember there's the whole rest of the Book of James to cover. So I dig back in, and, doh, I forgot – there's a little more about doubt. So here I go.
First – context. We can't be taking things out of context. Although I just spent three days writing about doubt, James isn't really making a big deal of it. It's just a sentence or two in a letter. His point being the whole James conundrum thing. Faith and doubt make a guest appearance.
James never addresses the subject of the validity of doubt all. He just tells us that it's a tough way to go. Thanks – we know this already. A little more help help would have been nice. The only thing he's gonna say, beside the whole doubt is the sea thing is this (1:7,8):
"For that person must not suppose that he will receive anything from the Lord, since he is a man of two minds, unstable in all his ways."
That's just enough help to be dangerous. Give us humans verses like this and we'll proceed to bash ourselves, and each other, all over our little collective heads with it.
Of course if we're doubting we bob on the sea. But unstable today means – well – you know – unstable. A really bad thing. He's just saying that doubt is not a firm starting point.And in context he's really just saying don't bother asking for wisdom if I have doubts, about either receiving it – or the method by which it may come.
It would be easier if we just believed. And that's true. But he does not once say that a person with doubts is deficient in any way.
There's something else important to remember when looking at these two verses.  I'm a person who know the struggles of doubt. The Book of James is inspired, but I'm not sure James knew about this kind of struggle. James seems to be a person who swam in faith.
I'm thinking he never doubted the existence of God. God was the God of Abraham Isaac and Jacob. It was in his bones. Everyone that he knew was a believer, and it was in their bones too. It was the culture in which they lived.
That's not the place we live.
I think belief was just fact to James and I don't think he would even get his hands around the idea that non-belief was an option. Everybody believed back then. There were no agnostics – there were no atheists – it was just a matter of which faith you had, not whether you had faith.
So what I'm saying is this. If I were a person who was struggling with doubt. I wouldn't have looked up James, I would have run to Thomas, or Peter. Or maybe John, he seems nice. James the Just is awesome. But he's not warm and fuzzy. It's true, us people prone to doubt or spiritual amnesia can use a good swift kick sometimes. That I would go James for. But not this struggle.
And I see this is gonna take a couple of days too. Everyone, if you're tired of this topic let me know. But here's the plan as I see it. One more day on this. Then I'm thinking it's time to come to the defense of my favorite apostle, Thomas. Then I think we're done with doubt for a while and we'll just sit back and let James yell at us for not being good enough.