Faith.
Why did God set things up this way?
Why the faith system instead of the proof system?
Why are we left to believe in that which cannot be objectively proven?
I don't know. But the fact remains that if we follow him, we do so in faith.
By the way, there's going to be absolutely no Scripture in this post. There was little time for study. I was preoccupied by an attack of empathy. Just thought I'd tell you – the name of the blog and all.
Where was I?
Oh.
Where proof is possible faith is impossible. We can have evidence – and we do. We can have the power of history on our side – and we do. We can have little touches in our life by him, that are unmistakeably not of this earth – and given long enough in the faith – we all do. Sadly. given long enough in the faith, we forget these personal patches of proof.
In the end the final step is just faith anyway. The fortunate thing for us is that God has left us with oodles of support and reason for believing in him. And he's left generous room within the faith system for honest doubt.
It was a clear blue summer day in L.A. I was hiking along the coast, south of the main beaches. A place called Malaga Cove. No beachy sand for toes; just some cliffs and a bunch of rocks to be climbed over.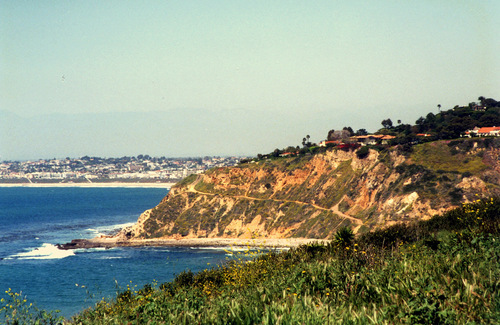 See that nice line running across the steep hillside? That's a lovely little trail, big enough for horses.
Nice,
flat,
even,
easy
not chosen.
I was down below. See where all that white water is? And did I say there wasn't any sand, but just these rocks to climb over? They weren't big – a foot, two feet,  three feet, five feet – and every one was shaky.  Every step was like a see saw. Step here, rock moves this way. Step there it moves the other, Don't watch your step and you do the moving – not the good kind.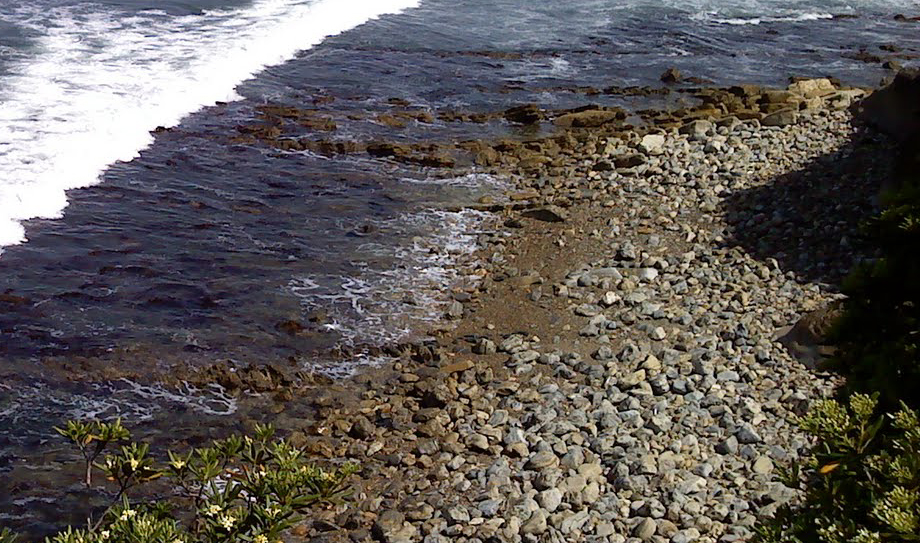 I found this out while stepping on one of the first rocks.  Looking out at the sea of rocks it seemed pretty easy hiking so I set out.  I didn't know about all the shaky. As I stepped onto the rock, a good three footer kind of rock, it tipped violently to the side.  My camera, in one hand, flew off the right. My water bottle, in the other hand, flew off to the left. I was left in the middle struggling to maintain my balance.
Wobble.
Wobble.
Wobble.
But no fatal fall.
From that point on I went very deliberately, very slowly.  I placed my foot gently on each rock to see what it would do if I decided to make the bold step. If it passed the test – I was all over it.
I wasn't ready to trust each rock without checking it out first.  I noticed some rocks were more stable than others. Some were downright death traps. The big rocks seemed the most stable, but soon I found that there was even room for doubt with them.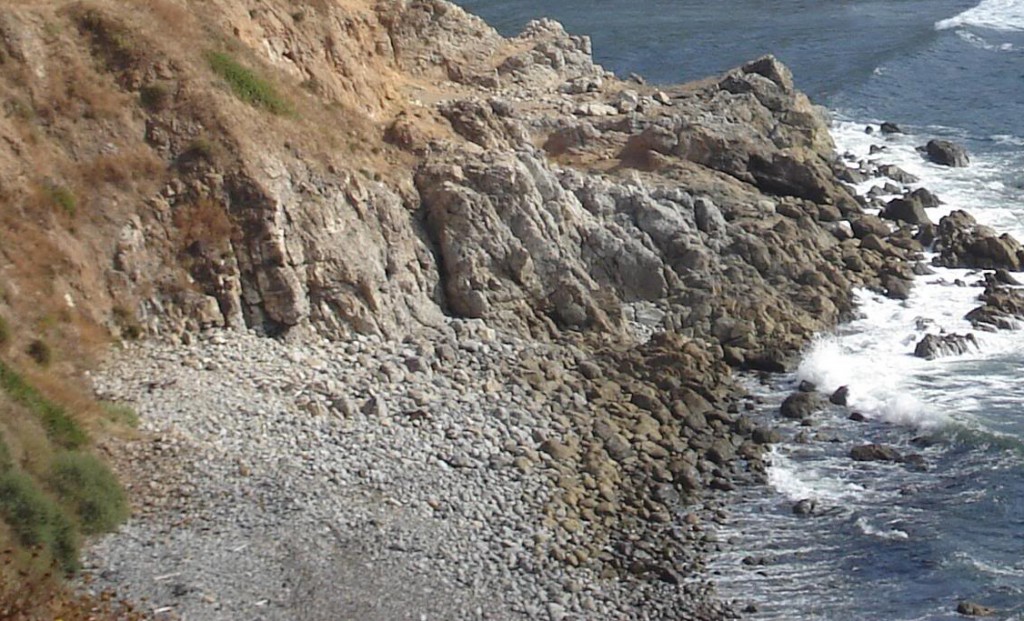 The going was slow at the start. One rock, then the next, then the next. But the more I navigated this rocky obstacle course, the quicker I was able to make my choices. The more info I took in the more agile I became. I still gathered all the facts, but with experience came quicker and more reliable decisions.
On the return hike, with the tide rolling in and that little area above, in the first picture – with that nice white water. That area was just about submerged. It's just on the other side of that little hill on the right hand side of this bottom picture.
All that white water wasn't there on the way out.
It was just a bunch of wobbly rocks.
There wasn't time for careful rock hopping anymore.
It was good that I had gotten adept.
Some of the parables Our Lord used, he explained. Most he didn't. I'm just gonna leave this one for you to peruse and pick and choose whatever you want to take from it. Or you can just laugh at the idea of me getting splashed up to my waist on the way back.
God Bless.