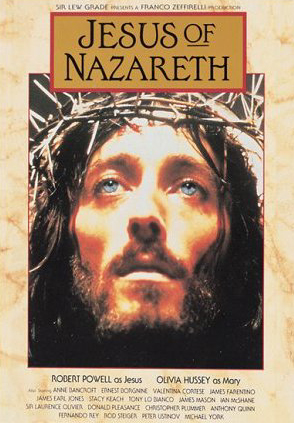 The story of the apostle Thomas continues. Part one is here.
The link below takes you to a clip from the movie on the right. It is over 30 years old and I think it's the best Gospel movie ever made. It was a T.V. miniseries. Think about that – a blockbuster T.V. Miniseries – on every night for a week – with a cast of stars.
That time has sadly passed. The networks don't give God Prime Time anymore. And they seemingly try to avoid the positive use of the "J" word at all costs.
I couldn't place the video within this post for licensing reasons. So I'll have to send you to You tube – then please come back.
The whole thing is 8 minutes but the important section for our purposes ends with a black screen at the 4:55 mark. You can watch after that but it doesn't apply to today's post.
And a kind of cool thing is that it is subtitled in Greek. I heart that.
The background Bible verses for the story are in three Gospels (Mark 5:21–43, Matthew 9:18–26, Luke 8:40–56). It's the story of the bringing back to life of the daughter of Jairus. Here's the link:
a miracle, a party, an invitation
There is actually some early church tradition that backs this story up. The truth is, we aren't sure if this is where Our Lord met Thomas. I am old enough to have seen this on T.V. But years later as a new Christian I saw it again and this scene was forever etched in my brain. This is when I said – yup – that's my guy.
Hope you enjoyed. Please let me know if you saw any of you in Thomas. That would be fun for me to read. I am so glad that I can tell you that at the end of the road of doubt, if you just stay with it, lies a faith that just won't let go.
I used to see so much of myself in Thomas, and he's still my favorite apostle. But thankfully my faith has grown to the point that the intense questioning part of him, I don't share anymore. My multitude of questions have all been answered. I think that the later Thomas had little in common with the earlier one – the one with all the questions – because he got all his answers too.
Take heart if you have doubts. It only took me a couple of decades to get through all of mine.
But then, I had a LOT of questions – and I didn't always listen to the answers the first time around – or the second…
God Bless