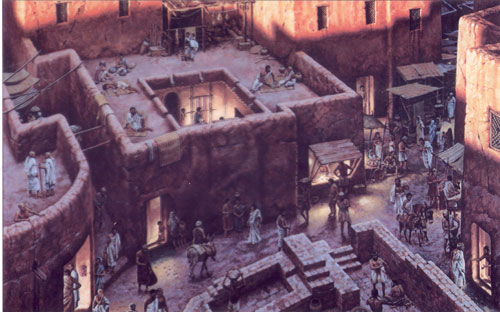 I envision an upper room in house with light brown walls. They would be made of stone but plastered with mud and straw.
Lamps would have lent a fireplace kind of glow to the room. Cushions would have lined the floor and the mood would have been light, happy, festive.
Hymns would have been sung, maybe tambourines, dancing, Maybe a lute playing and a drum.
But I think there would have been two solemn figures in the place. One would be Judas, he had things on his mind. The other would have been Our Lord. This would have been the third Passover dinner he shared with them. But it was different. He knew it would be the last.
Our Lord was about to do a number of things that would seem baffling. Confusion would start slowly, but would increase as the evening unfolded. Why, for instance was their teacher so silent, so pensive this night? Why was Judas so removed?
Their teacher washed their feet and explained, though they didn't get it now, they'd understand later. Why not just tell them now?
And he stated, maybe with a little sadness in his voice, that one of them was not clean. But he had washed everyone's feet. Did they miss something? This teacher of theirs was always about instructing them in creative ways.
Maybe as they looked around at each other, wondering, asking silently, puzzled – he may have looked directly at "the one". But with everyone so preoccupied with bewilderment, they missed it. They always missed it. I always miss it.
And he disclosed that one of them would betray him. Now they were listening. Now they were worried. Now they were catching on to the solemnity. They were a muddled mess.
"The disciples looked at one another, at a loss as to whom he meant." (JN 13:22)
There would be many glances between disturbed and confounded apostles ahead. Everyone had questions, nobody was brave enough to ask. Peter, the brash and brave one, was suddenly bashful. He signaled secretly to John who was sitting next to Our Lord. Without a word saying, ""You, you ask him. You do it." We always assume that John wanted to ask this question. Why? After all he didn't do it until after Peter nodded at him.
Then Judas left early and only Jesus really understood why.
Their teacher explained that now was the time for him to be glorified. What did that mean? Was he going to explain any of this dramatically cryptic stuff?
Then it became more cryptic. He would be leaving them and they couldn't follow him. They'd followed him for three years. Was he done with them? Wasn't there more left to do? What? Were they just supposed to go back to fishing, and tax collecting after he told them they could never look back on that old life?
Then there was something about his father having many houses and he was leaving to make them ready. But some of them knew his father – he didn't have many houses. Was he talking about the other one though, his Heavenly Father? When were the clues to be dropped? What was he talking about? They had no idea where he was going. But still, nobody asked.
Peter would be so unsettled that he'd make wild promises about dying for Jesus – and be told he wouldn't even admit to knowing him. What would this have done to me? I would have sulked and remained in convicted silence for the rest of the night. Is this what Peter did?
We know things were getting heavy because Our Lord told them not to let their heart be troubled. They would remain troubled anyway. We never listen. I never listen.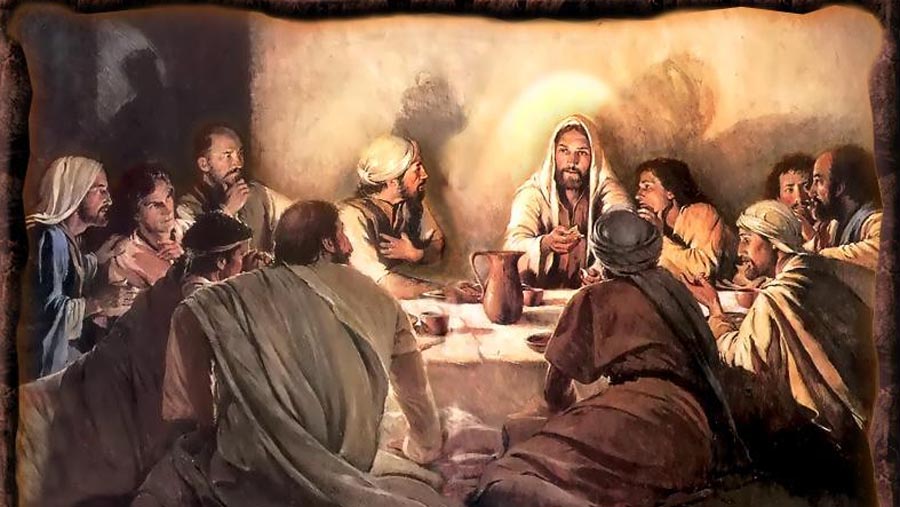 Peter would now be silent. John was forced by Peter to ask one question already – so he was done. And now came this mysterious "I'm leaving, and you know where I'm going, to prepare houses, in a place they knew – but nobody was grasping a single thing – and nobody was asking for clarification.
Until one of them had enough with all the cryptic.
One would break this ice of mystery.
Thomas said to him, "Master, we do not know where you are going; how can we know the way?" (JN 14:5)
Excellent questions. It was about time. Somebody had to ask. Did Peter maybe nod again, but this time to the one he knew would speak up?
Tell us more about this leaving, and how we'll be able to find you again. I would have wanted to know too. This is the second time this "doubter" of the Gospels speaks. And he's only asking what everyone in the room wanted to – but were afraid to ask. This is the second time he put them all to shame. Once by a statement – now by a question.
And once he paved the way for them, once he blazed the path, only now would others follow his lead. Phillip spoke up, then Judas (the other one). The mysteries would now start coming fast and furious – but only because one person was brave enough to ask a question.
My hero.
God Bless.