Here
is where
the roads
converge
Thomas
and
doubt
and
God.
This it the third and final appearance of Thomas in the Gospels – and this last one is the famous one. John 20:24-28.
"Thomas, called Didymus, one of the twelve, was not with them when Jesus came.  So the other disciples said to him, "We have seen the Lord."  But he said to them, "Unless I see the mark of the nails in his hands and put my finger into the nailmarks, and put my hand into his side, I will not believe."  Now a week later his disciples were again inside and Thomas was with them.  Jesus came, although the doors were locked, and stood in their midst and said, "Peace be with you."  Then he said to Thomas, "Put your finger here and see my hands, and bring your hand and put it into my side, and do not be unbelieving, but believe."  Thomas answered and said to him, "My Lord and my God".
I see here,
Our loving God,
my loving God,
who does not condemn honest doubt, but instead reaches out to assuage it.
Our Lord,
Our God,
my Lord and God,
You know my frailties
You understand my weaknesses.
You leave room for honest doubt.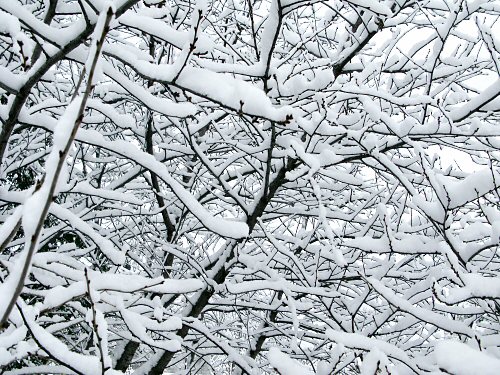 I want to rush in to give Thomas a break here. He wasn't around when you visited the apostles the first time after your death. They had seen. He had not. I think it's like the snow outside my window today. I can tell anyone who has seen a snowfall what it looks and feels like. But to someone who has never seen snow – no chance. In this case it's Thomas who has never seen snow and the others are bouncing about and joyfully recounting the snowfall.
Wouldn't I have responded this way?
My mom left this earth many years ago. If I were to walk into a family gathering and everyone there ran to me, jumping, joyous, and deliriously happy. Grabbing me, and all at the same time saying they've seen…
my mom,
our mom,
she was there,
in the flesh,
no longer dead,
really alive,
not a ghost,
not a vision,
not an hallucination,
but really alive  – and I just missed it.
Poor Thomas.
He, like the others, after the Crucifixion, maybe considered that they had expected too much from You. Their hopes and plans were all dashed when You were executed.
Then there's the question of why Thomas wasn't there when You first came. I think I know. I think anyone who has ever bobbed in the sea of doubt might know. I think that Thomas was off by himself, trying to make sense of everything.  He, like the others, was wondering how something so amazing could turn out so dreadfully wrong.
And for Thomas, the one who had to struggle so hard to learn how to skate on the ice, the Crucifixion sent him flying and sprawling across it, and headlong into the wall.  He separated from the others and was  dazed — then he found his way back to the group as he recovered some sense of balance.
On the ice it's easier for a fledgling skater to hang on to someone else — there is safety in numbers.  So maybe Thomas came back expecting to hear some logical words, some encouragement.  Maybe he expected something like, "Jesus is gone, we have to carry on without him."
But what he hears is the inconceivable.
He hears, "We have seen the Lord."
He expects what is to be expected.
He gets the unbelievable.
His response is predictable.
I'm not the only one who thinks his response was justified…
am I?