It spins around us about once about every 30 days.
It's timing is so regular, that from it we derive the word month.
It's a frigid, and void, and round piece of rock.
Only when it's full does it set – just as the sun rises.
It spends most of it's time orbiting on a different plane than the one between the sun and us. Otherwise we'd get eclipses once a month.
If we were on the moon during the eclipse that just happened the other day, we would have seen the earth as a black circle, wreathed in
brilliant,
blazing
red.
We would be seeing every sunrise and sunset on our planet all at the same time.
What we see from here is this:
The moon becomes red because the earth's atmosphere absorbs most of the "blue" light, and bends the rest of it. The color we get is a mix of the moon-ish gray, and the leftover light bending around the earth.
And how does this tie into Scripture?
The timing is magnificent. Because, eclipse or not, I would have written about it this very day. It impacts how we understand the verse we've been studying for the last two days, part one is here, part two is here. Which spins us to this last day of study on this magnificent verse in the Book of James,  1:17
"all good giving and every perfect gift is from above,
coming down from the Father of lights,
with whom there is no alteration or shadow caused by change."
I'm sure God didn't time the total eclipse of of the moon, on the Winter Solstice, just for this post. He may have timed me though – he does things like that.
At any rate this eclipse is exactly what this verse speaks of. How's that for timing?
There is no changing of God – in his essence, his mind, anything. That's the first statement, "no alteration". It's a straightforward Greek word. But the second phrase has a wrinkle – it's translated as "shadow caused by change".
The second phrase comes from two Greek words.
One is pronounced like this, but to get it right, we have to roll the "r" like a Greek chef, and place the accent on the second syllable – tro-pace. It looks like this  τροπῆς (I love Greek). It means literally, "of turning".
The next word is the magical one. It looks like this ἀποσκίασμα – and is pronounced, with emphasis on the second syllable, apos-kee-asma,. Have I mentioned I love Greek?
This one is the astronomical word.
It's literally
"eclipse".
Just like the movie,
and just like what just happened.
I like that.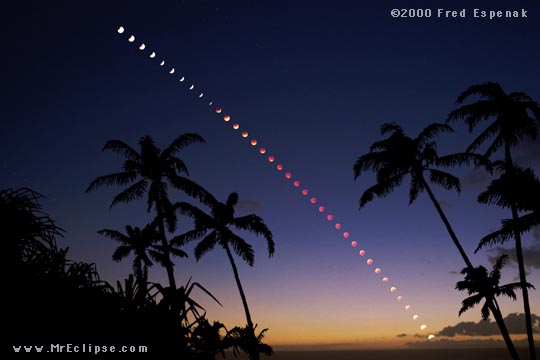 So what does this mean Father? To me? To us?
It mans that there is nothing that can ever move between You, my Father of lights, and me.
Nothing can hide you from me,
nothing can block my view of you,
nothing can come between us
and cause an eclipse.
There is one thing, though. But it's not an outside thing. It's sin.
Imperfection cannot gaze upon perfection.
I can't see you if I have sin, any sin,
one sin,
and I have many.
But you took that from me, on the Cross.
I'm sorry.
I'm so sorry about that.
And so grateful.
Sin can keep me from seeing you,
but with sin removed,
nothing can block my view.
And this too Lord, sin or no sin, You can always see me, always protect me, always have a clear path to me – and my path to you is straight and true.
Everything in this universe
gets eclipsed at one time
or another.
Except one.
You,
Our Father of Lights,
never,
ever,
I'll always be able to see you, and find you,
and will never again be lost myself.
Thank you.
God bless you all, and have a Merry "eclipse free" Christmas.