Why does God always deserve praise? I asked him once. I got an answer – and it's so simple.
When someone does something good it's deserving of praise. No?
If someone always and everywhere does all and only good,
then how often does that someone deserve praise?
Simple huh?  And just like with praise, it is with thanksgiving. Always and everywhere.
And so I join Ann Voskamp and many others in giving thanks today…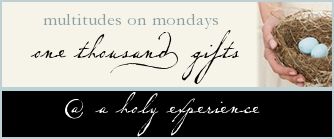 I am grateful…
#85. …that even though I always want to know more of that which I should not, and don't focus hard enough of that which I should, repeating ad infinitum the sin of the Garden, you forgive.
#86. …that this very second, in which I exist, is swirling with invisible magic and is bound together by Your very essence. Without which, time would disintegrate and all of us along with it.
#87. …that because You live, I live, we live. That in You I live and move and have my being.
#88. …that of the two types of hunger in me, this one is the weaker. It's the side that hungers for what this world has to offer, the tangible, the visible. But this world's system is set up so that I can never reach what I want. The brass ring is always just inches away, a tantalizing mirage that once reached, isn't enough. If I have nothing, I want something. If I get that I want more. If I get that I want better. A system so clearly not of You.
#89. …that this other, better, higher hunger burns as strong as it did, when it was white hot – when I was first found by You. The hunger for the intangible, the invisible, the immortal. This hunger, that when sated, wants more, but can have endless bounties upon which to feast. My reach exceeds my grasp – but not because the ring is too far away, but because there isn't enough time to discover it all in this life.
#90. …but one day there will be no more time, and more than enough time.
#91. …that I have this desire to live forever.
#92. …and that you make that possible.
#93. …that you teach me how to have "joy" in sadness, grateful that you give me:
perfect joy,
beyond the moment of circumstance joy
the knowledge and feeling that You, the only God, are in control – kind of  joy
And the awareness that You, the only God, care about my cares – kind of joy
not happy happy bluebirds singing joy
but definitely bigger than the universe joy
#94. …for all of these magnificent thank you lists I get to read each week. I heart this gratitude community of Ann's. The more I read, the more grateful I get.
#95. …for choices that we get to make, only because God didn't create robots, but children.
That I can choose to focus
on this or that not happening,
or that I don't have this or that,
or I lost this,
or I lost that.
Or I can focus on your whispers, in and through and around me
and the power of your presence in the now.
God Bless