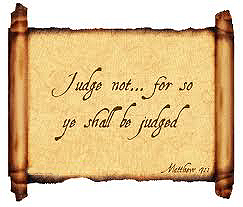 Now we get to a part of the book of James where he drops some bombshells.
But he'll start small.
He just finished writing about defending the defenseless (here).
Not he moves a bit further down that path,
and gets very judgy,
about judgy people.
He's going to relate a story about a really. judgy. church.
But, before the bombshells, we have some egg-head-y theological stuff to wade through.
James 2:1 gets argued about by theologians like we used to argue…
"But you didn't tag me you're still it!" as kids.
Here's the verse:
"My brothers, show no partiality as you adhere to the faith in our glorious Lord Jesus Christ."
The first big debate…
is about this story that James is about to tell.
Is about a particular situation in a community?
Or kind of – everybody?
I don't get why there's a debate though. Because way back at the beginning of the letter James told us to whom he was writing.  It wasn't to one church, like, say Philippians, it was to the entire church, most especially the Jewish Christians throughout the Roman Empire. I wrote about that here.
So it doesn't really make sense that this story James is about to launch is an actual situation in some church. I think it's a little parable, like his brother used to tell.
The second big debate…
is how to translate the Greek in this verse. James wasn't the best grammarian around, and his Greek gets kind of sloppy here.
Let me show you.
τὴν  πίστιν  τοῦ κυρίου ἡμῶν Ἰησοῦ Χριστοῦ τῆς δόξης
See what I mean?
Those of you who have read me a little know how I love me some Greek. And you also know it makes us (meaning me) sound smart if we speak it. Those words above? Here's how they sound. And don't forget your "Greek chef" accent. (I've colored the accented syllables too)
"Tayne

pees

teen
too kooreeyoo haym

own

eeyay

soo

kristoo
tayse doxays"
So anyway, you saw the grammatical problems right?
No?
How about if I highlight them?
τὴν πίστιν  τοῦ κυρί
ου

ἡμ

ῶν

Ἰησ

οῦ

Χριστ

οῦ

τ

ῆς

δόξ

ης

See?

All the highlighted endings are all "genitive" ones,

this makes the words "possession" type words,

and they're all piled up one right after the other,

so you really can't tell which "possessive" word goes with which,

and this leads to all sorts of different translations:

"as believers in our glorious Lord Jesus Christ" (NIV)

"as you hold the faith in our Lord Jesus Christ, the Lord of glory." (ESV)

"your faith in our glorious Lord Jesus Christ" (NASB)

"the faith of our Lord Jesus Christ, [the Lord] of glory" (KJV)

"the faith in our glorious Lord Jesus Christ." (NAB)

or the way I'd translate it "our faith in our Lord of Glory, Jesus, the Messiah."

But in my honest to goodness educated opinion…
Who cares?
They're all possible, no big doctrine is at stake, and if we're really curious, we can ask James when we see him.
Aaaaaand we're moving…
because tomorrow verse 2 begins the story…
But I have to ask, before moving on, what's the "So what" of this verse? Because the egg-head-y stuff is fun and all, but if I don't get something from it, why bother?
To me James is saying this,
"Craig, I know you say you aren't judgy,
but judgmentalism is a sneaky thing,
and it affects your faith profoundly,
and I want to make sure you know how to NOT mess up.
So perk up your ears. I'm about to tell you a story…"
Please come back tomorrow – the story is good.
God Bless