I just got done telling a story yesterday – historical fiction about a family from 2000 years ago.
Anybody wonder how I could speak with such certainty of how things would had have played out?
With Philippi it's really easy. It's all in the Philippian P.R.
In this city where social rank meant everything, everybody wanted their names and accomplishments recorded for posterity. The richer and more vain you were the more engraved press you would receive.
Their version of a paper trail, the stone inscription, was their signature hobby.
Everyone from Senator to local baker engraved their accomplishments, called a "cursus", somewhere. This is why we have so much information about people, places, and dates from the Roman Empire.
The Romans were the most prolific show offs in antiquity.
How do we know what language was spoken? We dig through the dirt and then look at the inscriptions in every corner of town.
How do we know who was in charge? Everyone who had any position proudly engraved it on some rock, somewhere.
How do we know the Philippians were so Roman? They laid out their city like a typical Roman city, they had Latin (Roman) inscriptions, their form of government was Roman (we can tell by the inscriptions), as was their Forum, as was their housing, as was their clothing, and so on.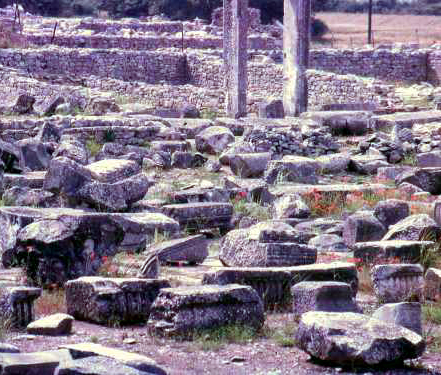 How important was status to the Philippians? Let's just say that unengraved stones were an endangered species. More than that, the inscriptions they left behind are the most detailed of the entire Roman Empire.
In one of the most status conscious societies around our Philippians top the vanity list.
We'd like to think our Philippian church of about 80 members would have been above this. But that was most likely not the case and Paul knew it. In all of his letters, the one to the Philippians is the only one where he specifically greets 'officials' of the church by title (1:1).
Yet, let it not be missed that he left off his own title of apostle. He obviously understood their propensity for boasting and chose not to make any boast except for Jesus.
It's probably also no coincidence that in just one of Paul's letters he refers to our Lord as a slave – just the one to Philippi. Unlike the letter of James, which was written for everyone, across the Empire, this letter was written just for this little hilltop town.
Just thought you might like to know this. I've always wondered how scholars, and the little notes in our study Bibles were able to say stuff like, "The Corinthian church was quarellsome." Or "The people of Ephesus were…".
The Bible says that Our Lord was born "when the fullness of time had come" (Gal 4:4).
It was the perfect time. One of the many reasons it was the perfect time, was the Roman Empire. A hundred years earlier – and things were a mess. A couple of hundred years later – and things descended into the chaos known as "the Dark Ages".
The Romans and Greeks left us nice languages to read.
They left behind lots of breadcrumbs (stones) to follow.
Archaeologists and anthropologists have sorted through the breadcrumbs
put the pieces together
using the patterns of history – which really haven't changed that much
and give us a really clear view
of 2000 years ago.
It's just really smart people doing really smart things.
And we get to benefit from it.
Next time we continue the walk through of the city they've uncovered.
God Bless