Today I'm linking with Ann Voskamp and many other of God's own
and walking with Our Lord towards Easter,
and considering: The Practice of Letting Go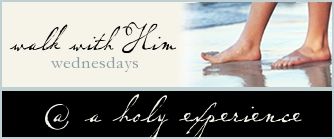 I began writing these "letting go" thoughts and all of the thoughts were centering on me.
But looking to all the events leading up to that day on the Cross,
and that day in the tomb,
it suddenly it hit me – it's not about me "letting go" at all.
What I've written here is just a prayer, just me, chatting with God – and now, sharing it with you.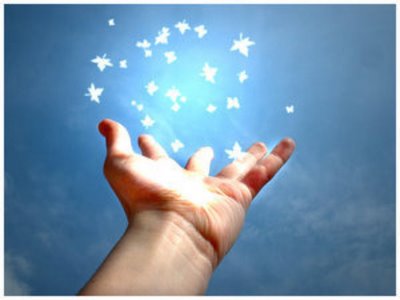 It's not about me at all. Is it, Lord?
It's about how you "let go".
You are God. You lack nothing. But you "let go" of so much.
Lord, it was your Augustine who wrote this, "The strength of Christ created us. The weakness of Christ created us anew."
And at first Lord, I thought, "This is Augustine – he must be right."
But he wasn't right, was he?
Lord,
you are the one was with God,
and were God,
and are God.
You are the one by whom all things came to be, and without whom nothing came to be. And you were never created – even though you were born.
You, the One who can never die, humbled yourself, and in your humanity – you did die.
You, who are the Lord of life, "let go" of life.
You, who have access to all power, didn't care that it appeared like you were under the power of Rome. You, who could dance around the logic and scheming of the Pharisees, allowed it to look like the Pharisees had outsmarted you.
You cared enough about me, about us all, to "let go" of so much.
You could have "held on" to pride. Being perfect you are the only one who can really lay claim to ultimate pride. But you "let go".
You are the The God of all – who is humble.
Augustine was eloquent,
but wrong.
You gave up your own life. Maybe, even that spear piercing your lungs as it did – something that would kill anyone – had no chance of killing you – unless you allowed it.
I think Augustine saw your dying as weakness – and thought that by that weakness – we are saved. But it wasn't weakness was it?
It was you "letting go".
It was you freely laying down your life.
You chose to die and didn't have to.
You "let go" of life, saying, when it was just the right time,
"It is accomplished"
"Father, into your hands I commend my spirit".
Your life wasn't taken. You "let go" of it.
You were sacrificed, but not killed.
You are always God, never were not God, and your death was not weakness.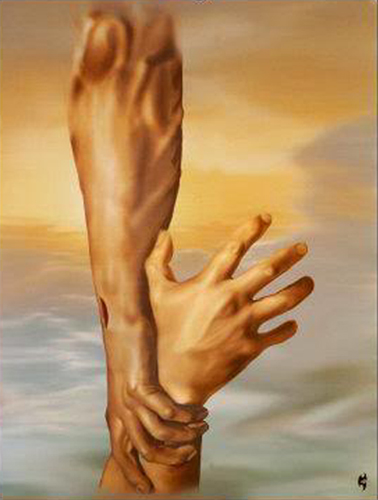 Because you "let go", and you emptied yourself, taking the form of a slave, coming in human likeness; and humbling yourself, becoming obedient to death…
I can live.
We. Can. Live.
You are so much better than any wild flight of fancy:
God, but human
All powerful, but humble
eternal, yet bound by time
the Creator of life – and yet dying – and although dying – you lived
perfect, yet subjecting yourself  to fear, hurt, hunger, pain.
And because you "let go"
we can grab the tassel of your robe
and we can "hang on"
and we can be healed.
and we can live.
Thank you.
Amen.
God Bless