James 2:4 "have you not made distinctions among yourselves and become judges with evil designs?"
The story in a nutshell: Rich guy and poor guy both arrive at a 1st century gathering of believers. Rich guy gets first class treatment – poor guy gets kicked to the curb. (the full story is here and here)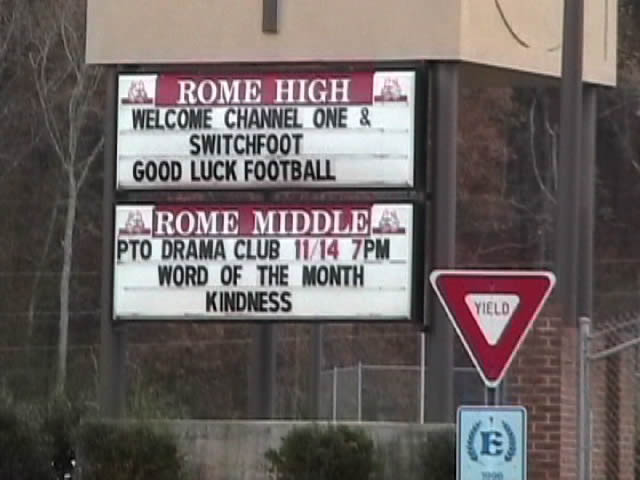 A little time in Philippi has taught me how social order was maintained above nearly everything else in the Roman Empire. The Roman Empire was like High School.
If you try to mess up the social order in High School you get crushed underfoot. No?
Oh, and by the way, notice the word of the month in Rome Junior High – I thought that was funny. ƪ(◠‿◠)╯
The house owner was like a popular – but not uber popular High School kid. If he was the top of the High School food chain maybe he wouldn't have to worry so much. But he wasn't – and so he did.
When I first read this I got so "judgy" about the house owner. But when I realized that I've done the same – and even tend to do the same.
Ooooof!
Insert sound of "screeching brakes" here.
It's good to slow down sometimes – you see things.
Slowing down made me look at the words in the verse.
James writes, "have you not made distinctions among yourselves?"
"Meh – I have." I answer, in a whimper.
The word for "distinctions" in the Greek is
διεκρίθητε
(diakreethayteh – pronounced with proper "Greek Chef" accent and hand motions)
Pronouncing the word made me think of "diacritical mark". I didn't know why. So I looked it up. That little mark in the Greek word above, the one above the
"

ί

"
That's a diacritical mark and it's actually a good thing, it tells me where to put the emphasis when I pronounce the word.
It's a judgment thing. It's not negative because it's right in line with the language – the language being the authority. If I put it there properly I'm following the rules. If I put it over a different letter, improperly, all sorts of grammatical havoc ensues.
So it's not the "judgy" that's wrong – it's the "wrong judgy" that's wrong.
διεκρίθητε (diaykreethayteh) is just making a judgment –that's all.
In a sense, the house owner has authority in his own home. He gets to decide who sits where.
But this is just a story James is telling, and the one with the ultimate authority is the story teller. You can't always tell someone's motives – you can if they're a character in a story you wrote.
This guy's motives were evil. We know this because the story teller tells us.
Literally, in the Greek this verse says,
"Are you not judging among yourselves, and being judges with thoughts from evil."
Well – there's the motive.
More Greek…
διαλογισμῶν  πονηρῶν
(dialogismown ponayrown – note the diacritical marks)
"thoughts from evil"
Why is it evil? That, James is going to get into…later.
And now I have to ask, "What's my 'so what' here?"
If I take the time to examine my motives, I pretty much know why I do everything I do. And so, being "judgy" about which can of cat food I'm going to give Laska the love kitty – that's a good "judgy". I want his hunger satisfied, and I want him to like it, so I'll choose with right motives and judge correctly – and it won't be evil. But if my motive is anything other than 1st Corinthians love, if it's one Our Lord Jesus would not have, then it's not good – and it's evil. I'm gonna make a lot of judgments today – and I'm gonna be asking motive – love or evil. Today I'm keeping score.
That's my so what. Is yours the same? Can you tell me below in the comments what your "so what" is for this? I used to learn alone, but not anymore, I learn so much from you guys.
God bless.