… giving thanks always and for everything in the name of our Lord Jesus Christ to God the Father. (Eph 5:20)
Mondays are for Gratitude. Linking today with Ann's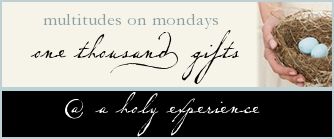 Thank You God…
#225 … for this bloggy community in which I find myself.
#226 … that I almost chose the community that was all blah blah theology and debate and eggheady arrogance and puffed up pride guised in humility. But instead I found a community that writes theology with heart and love.
#227 … that if I had chosen that other community in which to write, I may have found myself repeating my old pattern of blah blah theology and debate and eggheady arrogance and puffed up pride guised in humility – and I didn't.
#228 … that I've had the heart before – without the theology and found it lacking. I've had the theology without the heart and it was empty. But now I get to read theology with heart everyday – and it has transformed my writing – and life.
#229 …that this community has filled me so thoroughly with the heart of God through words and pictures. You have all prepared my heart for a Lent and an Easter unlike any in my 26 years of being Christian.

#230 … that Ann invited me to "Walk with Him" toward Easter – and I had a season of Easter like I've for so long had a season of Christmas.
#231 … that I now understand Lent like I understand Advent. And I never really understood either until this year.
#232 … that my Easters now have a better than full circle history. As a child it was just one day, no God at all, just bunnies and candy. Then Lent became a time of dour countenance, and Easter became a day of stuffy suits and church. So much so that when I had a chance I abandoned the day, altogether. Then I gave my life to Our Lord and Easter was one day again, but a special one, for the right reasons. It remained that way until this year and it blossomed bigger than ever.
#233 … for you. Yes you – you right there – because if you're reading this you are one of the women in this community who has made such a stunning difference in my life, my theology, my spirit. Thank you.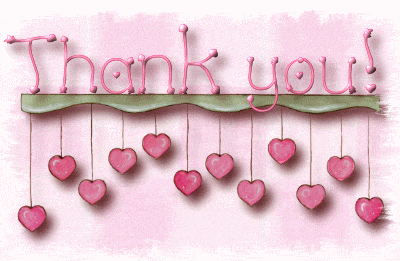 #234 … for Lent, and how it stair-steps it's way toward Easter.
#235 … that I got to contemplate for a whole day on Thursday the momentous Last dinner and those moments in the Garden.
#236 … that on Friday I pondered deeply that Via Dolorosa upon which Our Lord tread.
#237 … that Saturday I rediscovered how busy Our Lord was while he was in the grave.
#238 … that Sunday was bliss, and sorrow, and light and darkness, and filled with Spirit and truth, and trial and growth, and pain and love. It was an unexpected response to the day Our Lord chose to walk away from the grave. It wasn't all bright and there sure weren't any chocolate bunnies. It was Easter in a new way.
#239 … for all the thank you lists I'll get to read this week. I heart reading them all – the smiles, the pictures, the tears, the family, the love, the trials, the triumphs. Thank you, it all fills my heart to the brim.
#240 … that "heart" is now my favorite verb. It never was before. It's always been a noun. I heart "heart" as verb. I heart it so much I sometimes abuse the license of its use. But I heart hearting things and that I've had so much to heart.

I heart my thank you list.
I heart that you've read it.
I so completely heart "heart" as a verb.
Or have I already said that…
God bless.