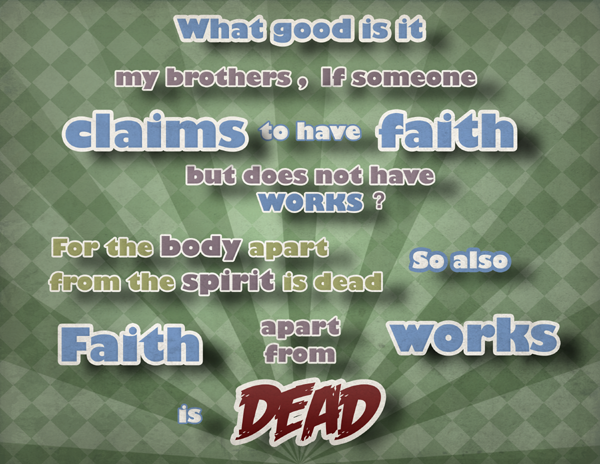 source
" …faith of itself, if it does not have works, is dead."
This is the verse that James the Just, the brother of our Lord, is famous, or rather, infamous for. (James 2:17) I've been camping out on this verse for little bit now. Even yesterday when I linked up with Ann Voskamp on the subject of resurrection (here) – even though that seemed a little off topic it actually turned out to be right on.
Perfect "doing" of the works of love required for a living faith is impossible.
We darn well better have Grace or we're in big trouble!
So yesterday's post added to my understanding of this verse.
Funny how God does that. No?
Everything recently has been building toward an understanding of this, in some circles, controversial verse.
There was the question of what "dead" faith was. (here)
There was the "faith and works" Oreo cookie. (here)
There was a crucial parable of the girl and the arrows. (here)
I've worked on the beginning of the verse, and the end of the verse, and begun work on the middle of the verse.
Now the middle of the verse and this one word "works"…
This one word is pretty critical.
After all, it's "works" that make a faith alive according to James.
So, I have to get a clear view of what "works" are.
And the guy who writes more about "works" then anybody else by far is the Apostle Paul. He's the guy, who some believe, stands in opposition to James.
But he doesn't, really.
I think of it this way, it's like they're two swordsmen…
And they are crossing swords…
But not with each other.
Paul is fighting the, "works of the law get you there" fight,
and James fighting the, "all I need is grace, what I do doesn't matter" fight.
They're battling different foes … back to back.
Paul, when he uses the word "works", does so in two ways. First he uses it to refer to works of the Law of Moses – and he's very clear that doing these "works" are not enough to assuage the judgment of God.
The other way Paul uses the word "works"
is to describe the actions of love we take in obedience,
after we accept Christ,
and not according to the Law of Moses,
but done out of love – 1st Corinthians love.
I know I'm going to have to back that up and so I will.
I'm going to start with this – one of my favorite verses of all time.
It's a verse I skipped over for many years. I think because, in context, it talks about circumcision – and I'm not really big on that topic. The fifth verse of chapter 5 of Galatians ends with these words…
"The only thing that counts is faith expressing itself through love."
I. Heart. Those. Words.
And it's good place to start.
Because I have more "work" to do in order to unravel "works".
And I smiled when I wrote that last line.
This is fun for me.
God bless.