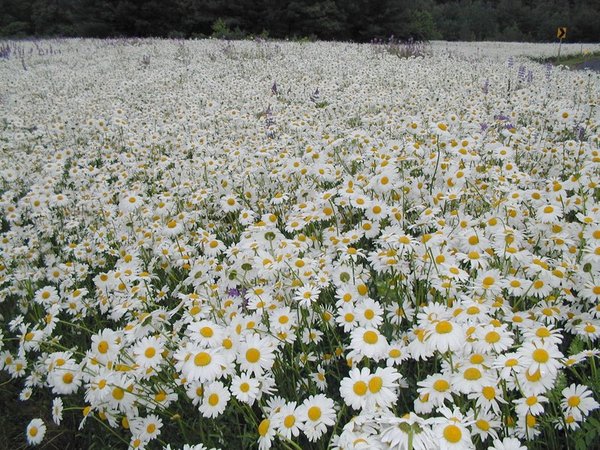 source
When was the last time you heard the word "works", in the biblical sense, and smiled?
It's at best a neutral kind of word – at worst – dreadful.
But now works = daisies…
and I can't think of the word without smiling.
Anyway…if you are new to this study of daisies, in order for any of this to make sense – you have to read this first. Once you read it, works = daisies will make all the sense in the world.
Sometimes, like right now, as I'm looking over at some purple daisies…
which by the way last forever when you cut them and put them in a vase – which is kind of a purple daisy in itself…
So I'm looking at the purple daisy, and I'm reminded of the miracle it is that God, the Creator and Sustainer of the universe, all-powerful in every conceivable way, even acknowledges my existence – much less takes an active interest in my life.
That's very purple daisy-ish.
I'm looking at them right now and they bring comfort, and peace, and happiness, and tears – the good kind. I heart that!
"Works" used to be a bad word – now it's all…
daisies…
and I can't even say that without smiling.
All that being said I only have room left for one daisy today – but it's kind of a buy one – get two free kind of daisy.
You know how a lot of times daisies aren't just the one flower but they branch off near the top into two or three or four?
This daisy does that…
technically, in the biblical text,  it's only one daisy…
While they were worshiping the Lord and fasting, the holy Spirit said, "Set apart for me Barnabas and Saul for the work to which I have called them." (Acts 13:2)
But in context it's three…
proclaiming the Word of God (Acts 13:5)
defending the rep of God (Acts 13:6-11)
continuing on through persecution (Acts 13:50,51)
See! Buy one – get two free!
And  all of them are green, because it was kind of their job in context…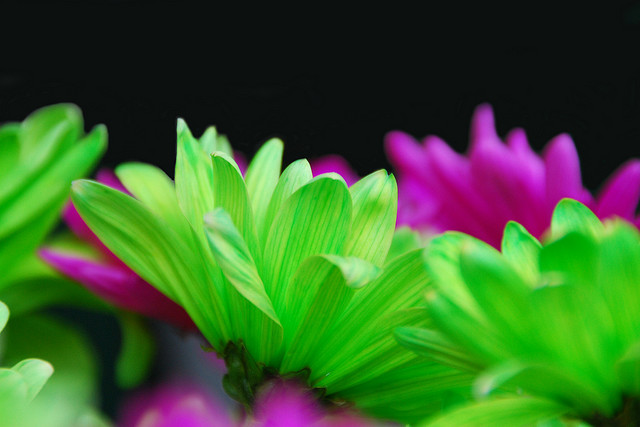 source
but kind of white-ish too.
To spread the Gospel of Grace? That's never a bad thing.
To defend the reputation of God – my goodness…
Christianity seems to be the one religion, at least in America, that you can openly attack, and ridicule, and discriminate against with impunity. Put that together with the amount of black eyes that we Christians give God and his reputation – and this is a white-ish / green-ish daisy completely apropos for our times.
And the last one…
The last one's kind of sad…
If we are God's…
then we're like salmon swimming upstream…
And I've watched The Discovery Channel – and I know how those bears hang out at the top of the streams and wait for the salmon to jump right into their mouths.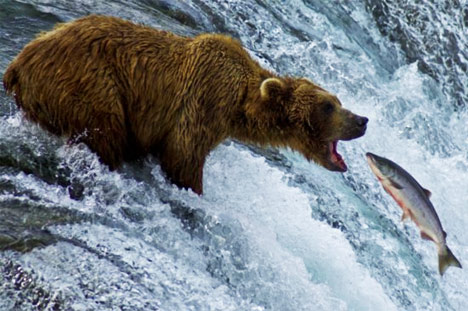 source
Salmon are like Happy Meals for bears!
That's a little bit of a metaphor. No?
… So these are the three green-ish / white-ish daisies…
And I can only think one thing…
Please forgive me for this…
It's not easy…
Being…
green.
(◠‿◠)