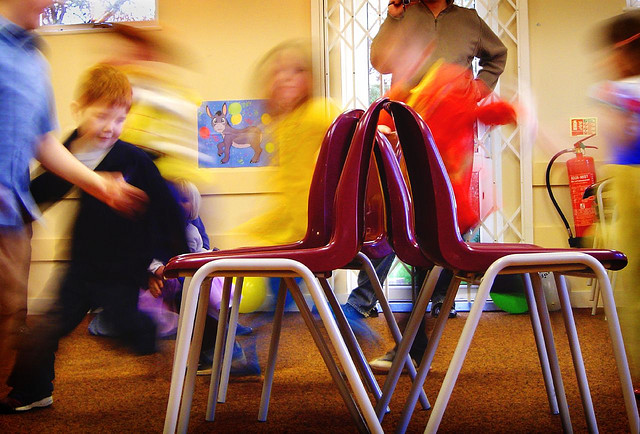 source
I was about five years old and dressed in a white shirt and tie. I had my hair combed just right – and "product" in it before the use of "product" in male hair became all the rage.
There was a circle of chairs and music playing. And my mom – young, and the most beautiful woman I knew – she was my only parent – and I didn't want another one.
It was my birthday.
I have very few happy memories of my early childhood. I guess before five you don't remember much anyway, and after five she married a man who turned my life upside down. From that point I have mostly memories I'd like to forget.
But there was this moment with all of my friends,
circling the chairs,
and a little pushing and shoving,
and giggling,
and the music was playing,
and the music stopped,
everybody grabbed a chair,
except for one person.
And when the game got down one final chair,
it meant everything.
I don't remember if I got the chair not,
but I remember wanting that seat at all cost.
There is a little strip of land on the eastern coast of the Mediterranean Sea…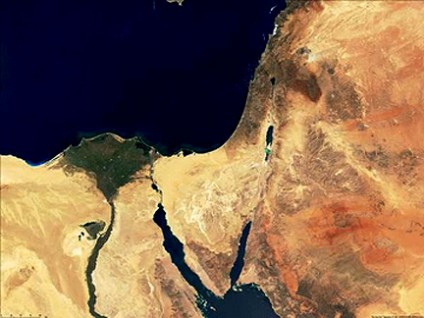 source
surrounded by desert that nobody really wants.
It has this unique crinkly geography.
It starts at the sea and raises to the hills…
then drops down below sea level…
only to raise again to a high plateau…
and it has a nice sized fresh water lake…
and a salt water one…
and a river.
There were always "great" nations to north of this little patch of land and the south, east, and west. And every time a "great" nation passed by, it coveted the strip like the last chair.
This tiny strip of land is part of the "fullness of time".
There was a very brief time when Israel was independent. Every other point in history the land has either been shared or occupied by one of those "great" nations: Egypt, Babylon, Assyria, Rome, or Greece.
About 400 BC Alexander the Great, of Greece, grabbed it from Persia – as he had done with most of the Middle East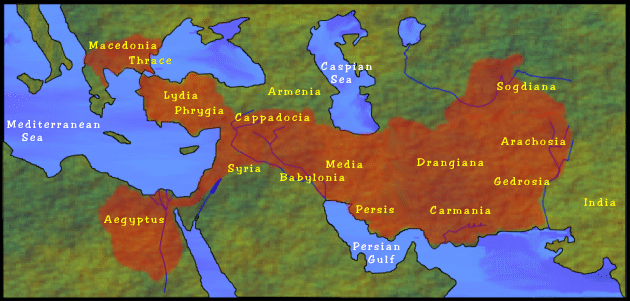 source
Most conquerors were interested in gaining real estate and wealth. But Alexander was different. He had a dream of uniting the world with Greek civilization, and language, and philosophy.
But soon after he conquered the little strip of land, he died, and his extensive kingdom of Greece got divided up. But groundwork had been lain for the "fullness of time'.
Israel stood at the crossroads of civilizations…
many languages were spoken,
and cultures shared…
but now Greek became the language everyone knew…
and before his death, Alexander had united the area with Greek influence…
and, in a way…
prepared it for the entrance of Rome…
setting the stage for "the fullness of time.'
There is so much more to this perfect 'fullness of time"…
please come back.