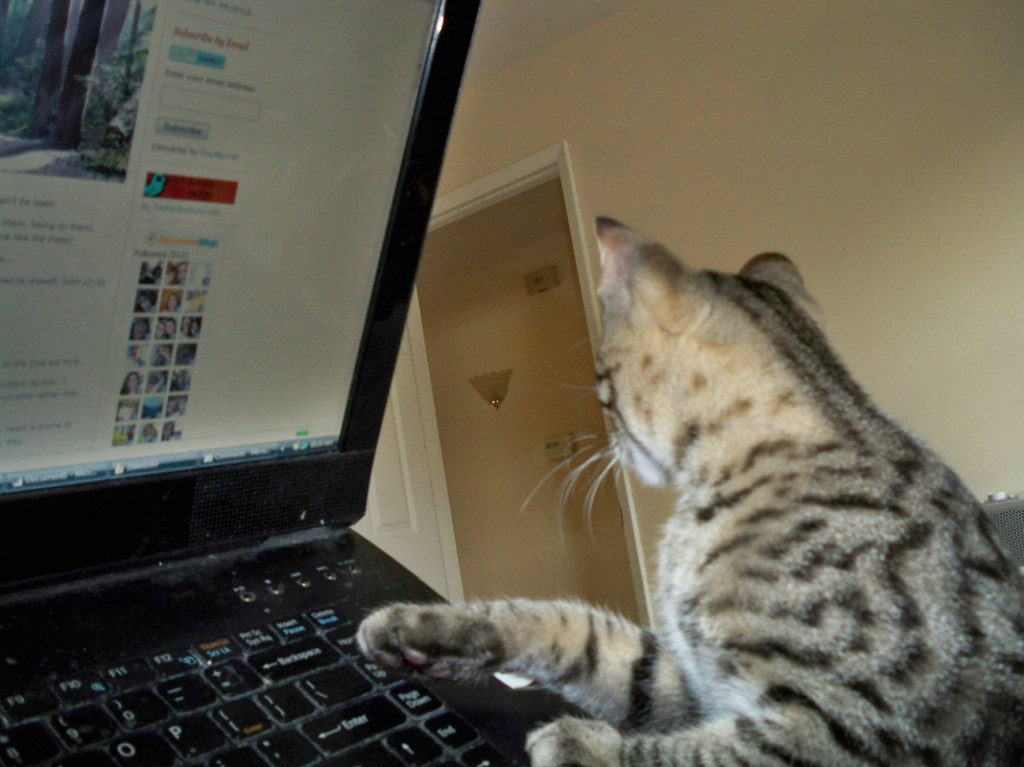 This awlmost mergensee post wuz
I awlmost have tiping with wun paw onlee
kreg iz tiyerd tuday beecuz he tuk kayr uv mee yesterday
yesterday bad thingz hapin tu laska th luv kitee!
becuz maybe u du not no laska
he is me! luk at pikchur

i luk lyk anjil – yes?
so I am post heer an on other kreg blog deep intu luv so kreg restz pawz uv him
this part wun iz
wen u r dun u wil go tu part tu on deep intu luv
at end i wil tel you klik and u wil klik tu part tu
eneeway
I wuz fore walk yesturday an wuz nise
I saw small dogz – he iz lyk toy – i m more strongz then him

and I wuz lyk gray toy with fuzee tayl

it wuz sun an not tu hot
it wuz nise day fore walk with kreg
did u no I uzd tu heer voysez owtside – mayking fore skayrz (it iz here – go reed)
but I heer no voysez anymore
kreg helpd mayke voysez gow away – I wil rite abowt soon – u wil reed
but now with no voysez I go owtside with kreg
I du not go by self – I go with kreg so I wach him an keep him sayf
hole owtside is like big toy fore Laska!
owtside iz nise
but tuday I rite
bekuz bad thing hapind
I wuz owtside with kreg
I saw smawl toy on grass
I jumpz on toy

but toy maykz hurtz fore me in paw
toy flyz away but I hit toy beefore it goze far
it wuz bad toy – I nevur hav bad toy evur
it lukd lyk this

an paw wuz hurtz wen I walk
it maykz fore hard tu walking
I kep paw off grownd
but iz hard tu wawk with jus 3 legz

paw iz varee big now
I du not lyk bad toy
I want tu mayke paw uv toy feel bad
now u klik here an reed rest of storee
u did not klick yet?
go
klik now an REED STOREE!
u r stil heer? Go. klik now!