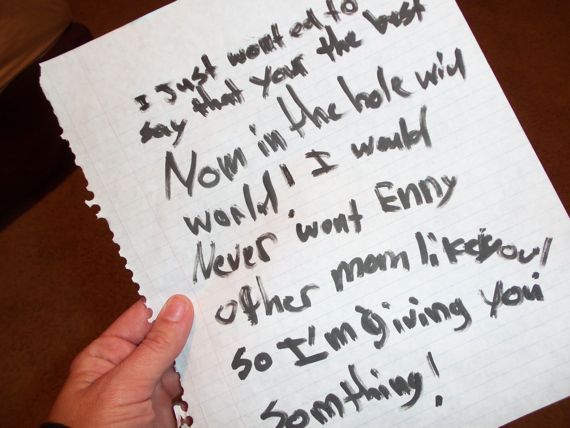 source
My mom's earthly life was ending.
She was uncertain about her destination.
I wanted so desperately for her to be certain.
First came the many questions that informed me about exactly what she believed. (they began here)
Then this letter…
no "off the rack" gospel presentation…
but one custom made for her…
Part one of the letter is here…and this is where I left off…
Mom, you know how much you love us…
He loves you even more than that.
Just like you, he wants to take care of his own…
to provide for them, love them, protect them, guide them.
And I know the brave face you put on for us…
but I also know how much peace is missing…
I can see it…
and I want you to have it so desperately…
and you know these verses, I'm sure…
..we have peace through God through our Lord Jesus Christ.  (Romans 5:1)
Peace I leave with you. My peace I give to you. Not as the world gives do I give it to you. So don't let your hearts be troubled or afraid. (John 14:27)
It's direct access to peace Mom, available through Jesus, and only through him. I know you think there are many ways to peace, to God, but Jesus said that no one had access to the Father through any other way except him. (John 14:6)
And I know how much you love (I didn't use heart as a verb back then) love Billy Graham, and he said…
In Christ we are relaxed and at peace in the midst of confusions, bewilderments, and perplexities of this life.  The storm rages, but our hearts are at rest.  We have found peace – at last.
You know me Mom…
I don't have much money, or fame, or power, or earthly success…
but you know how much life I have…
that comes from Him.
I see others my age with so much more "success". If I was relying on the world to give me my self confidence, and peace, and worth, I'd be in pretty sad shape. But strangely enough I'm not. Am I? And that's not me – it's Him.
I know you know Mom, that Jesus is the source of full life, because you've quoted this to me so often…
I have come that they may have life, and that they may have it more abundantly. (John 10:10)
I want you to have that life now…
and forever…
The questions were to find out where my mom was.
This letter was designed to meet her, right there.
All this thought of gospel surfaced recently because of a "chance" meeting with a stranger…
and my shocking inability to be brave about the Gospel…
to speak directly to it instead of flirting with the edges…
and my failure to "close" the deal…
and then you guys reminded me how personal the Gospel should be…
and just who does the saving…and so I'm sharing this…
and there's more…
please come back.