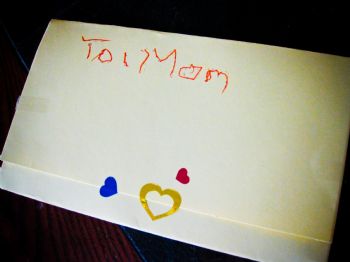 source
And the letter was folded with crisp edges, just like she taught me…
and placed in an envelope from her drawer in the kitchen.
On the outside was written, "From that son…"…
and I laid it by her bedside, and there it remained until she went to the hospital for the last time.
This is the last post in my series on sharing the gospel – with my mom.
The letter came only after I asked lots of questions to see what she believed...
and it was written specifically for her…for her doubts…and her heart. The letter began with this post.
And though there is personal stuff that makes the road to the Savior unique for each of us…
in the end it comes down to the very same gospel…
and the letter to my mom concludes…
And Mom, now it's just simple steps…
God's knocking…
just invite him in.
He knows you aren't perfect…
He knows you'll doubt…
He knows you'll sin…
He just wants your heart turned to him…
to know that you'll fight the doubt…
to know that you'll aim at him instead of sin.
And his Grace carries you the rest of the way to eternity in bliss.
I'll be praying for you as I always do. There is nothing more important for me in the world than knowing that you are right with God. But the choice is yours. Just very simple steps Mom – and not unfamiliar ones – a commitment – or maybe a recommitment.
1.    Count the cost Mom. Living with your heart toward God means that every action, decision, thought, gets bounced off of His will. Faith will touch all areas of your life as the love you have for your children now does.
2.    Admit to God your need for his Grace, that you know he's perfect and without sin – and you are imperfect and have sinned. I know, if he's God then he knows, but we say the words for us – not him.

3.    Ask forgiveness – once for all sins past present and future. Just ask.

4.    Talk to him of what he did on the Cross, and tell him you accept his incredible sacrifice – and his forgiveness….and grace…accept him as Savior.

5.    Talk to him about becoming his servant, commit to Him being the center of your life. Because to live with him forever means you have to place him in the core of your heart, mind, and soul. He is both Savior – and Lord.
It's just a conversation with the God of all things Mom – just like many you've had.

It's just like anything you've ever asked of Him, Mom…
except the answer to this heartfelt prayer, if it is truly heartfelt, is a guaranteed yes.
I won't even tell you the words to pray. You know the words already.
You can ask any way you want.  It's not a magical formula.
Just make the decision with your heart, call on him, and he will do the rest.
Let me know what you decide.
I love you.
I don't want to be without you.
Craig Steven