And I dreamt a dream…
because I know I should share the gospel with someone…
but I don't want to.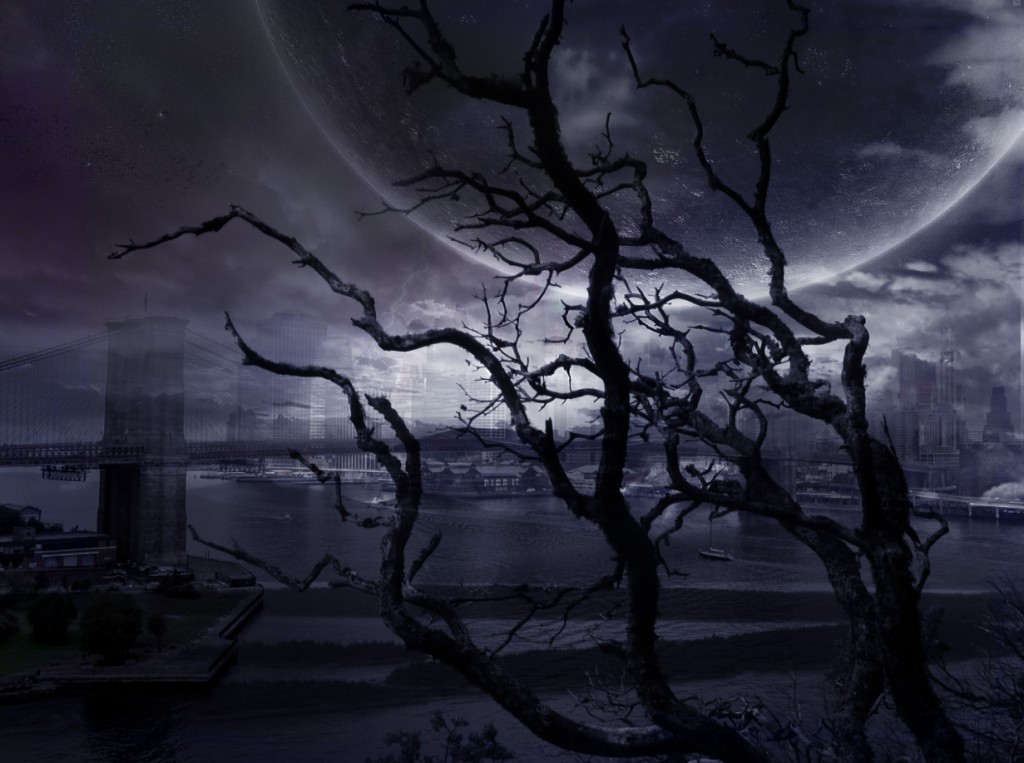 source
As a child in Brooklyn there were streets I was told not to go near – especially as evening fell. I've been to those streets. And in the dream, I was in the middle of them now…
this is part 3 of the dream…part one is here...two is here…
and ahead was the one I was looking for…
rampaging like the demon possessed boy in the gospel story…
screaming in agony – and unleashing it violent hot.
And I don't want him tormented.
He sees me and heads toward me full gallop…
and stops inches from my face…
eyes bulging, darting all around, forehead wrinkled, jitters.

"I don't know where I'm going. I don't! I can feel hell on my trail – the dogs nipping at me. I can't escape it. But I know you can take it! You can take this from me!"
And at this point let me share real life. There was a time when my sister was heartbroken, and nothing was working well, and she was trying so hard, but she was young and our mom had died, and our father – well – he chose to be worse than gone.
I was in the basement doing laundry and talking to God. And I talked to him about Gina – and how I hated to see her like this – and was scared for her.
And this prayer…
"Please give it to me…
all that pain, and hurt, and misfortune…
please God…I can take it…
I don't know if she can…
let me protect her…
I have to…
just send it my way…
just give it all to me instead…"
My knees fell on a pile of clothes.
I wanted it done – right there.
I've never asked this any other time…
and this is the first time I've ever told anyone…
and my sister will likely never know…
and that's good.
I'm sure it's not a prayer God says yes to very often – but trust me, it's obvious he did this time.
So this part of the dream – it has roots in fact.
And back to dreaming…
There is carnage everywhere, buildings ablaze, chaos…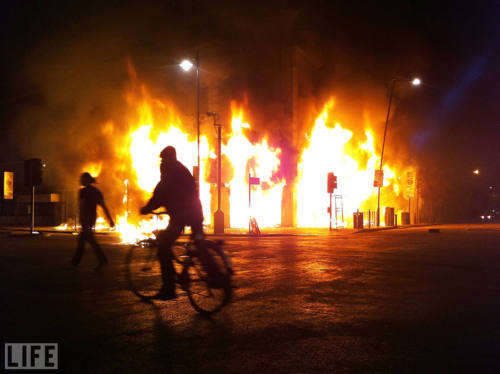 source
…but in this one moment it all fades to background and there is only a desperate man pounding on my chest – as if he can take his pain and hammer it into me.
I can feel it sinew and soul deep.
I tell him. "There is strength in weakness. He'll build you back up. But be reduced first – less of you – more of him."
He jumps back as if I was a bonfire and there was too much heat.
And his eyes reveal a longing to stay, and settle, and agree.

But his body flares up and takes over…
a prisoner to rabid fury…
and off he races…
disregarding anything in his path…
like a bulldozer clearing away trees…
and I have no choice…
I have to follow…
♥✞ღ
and you know I hate to do this…
but the dream….
it will end next post…
please come back…