source
Veronica…
the sixth Station of the Cross.
In Jerusalem's narrow streets…
over-run with people who came to see a spectacle…
there were some who came to be with our Lord.
Veronica, one of these, matched the steps of Jesus along every street on the way to Calvary.
If you are here from Deep into Love…thank you.
If you are not,,,this is a continuation of a meditation on the Fifth and Sixth Stations of the Cross from there.
She didn't watch from distance…
nor walk behind…
nor get too far ahead…
but remained close enough to see the face of Jesus…
a face marred by injury and dripping with blood and sweat.
At some point there was a break in movement…
maybe one of the times Our Lord fell under the weight of the cross.
There must've been some commotion…
because she slipped through the Roman guards…
right up to the face of Jesus…
close enough to touch…
close enough to help…
close enough to love.
She took a cloth…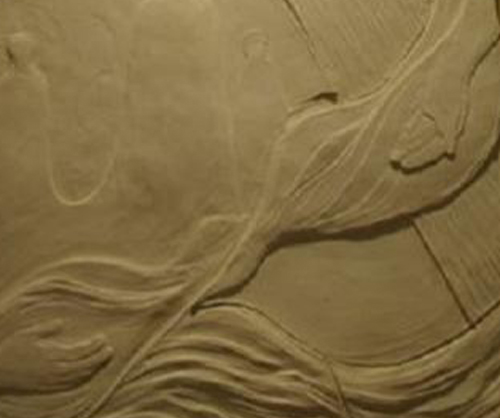 framed the face of Our Lord…
blotting up the sweat, wiping blood from his eyes…
maybe sharing some of his tears.
It may have been seconds…maybe minutes…
The Roman soldiers would not give much more.
A singular act of bravery…
a small sacrifice…
a simple and kind deed.
I think our Lord hearts the simple acts of kindness…
in the smallest act of kindness lies the immensity of God's love.
Everything good flows from God.
Every small act of kindness reflects back to him.
Church tradition has it that the cloth she used retained Your image, Lord.
An unintentional miracle maybe…
like when the woman touched Your robe and was healed…
because…
"…power had gone out from him." (Mk 5:30)
Was the cloth of Veronica touched by Your grace?
Was Veronica touched by your grace?
Did she and her cloth become a tiny mirror of You?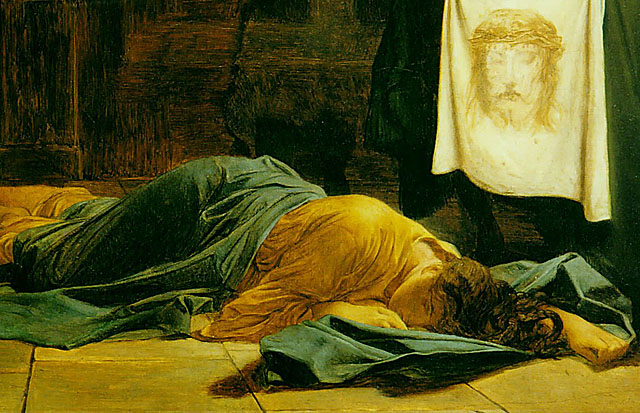 source
She became invisible…
Your image become visible.
Isn't that the way it should be…
more of You…
less of me.
I'll continue meditating upon the Stations of the Cross tomorrow on Deep into Love.
I'll continue the series on God, Satan, demons and angels here next time.
Thank you for reading.
God bless you this Lenten season…
Right up to Easter…
And through these days…
to the eternal day of forever.
In God's Grace.