Yup. Them are my brackets!
I'd really heart if you clicked on the picture, saved it, and filled them out to get to your Final Four. It'll be fun. I promise. And then tell me the results from your brackets. Pleeeeeeez!

Now…a little "bracketology".
Oh, and this is part two of my March Madness series. Part one is here, it's calling your name. (◔‿◔)
Anyway…
I tried to keep the same authors from competing against each other in the first round, but then there's Paul – quite the biblical chatterbox. The "selection committee" (me, me, me, and also me) did what they could.
Then there were the interesting numerical combinations like the number 3 seed against the number 14 seed in the Midwest regional…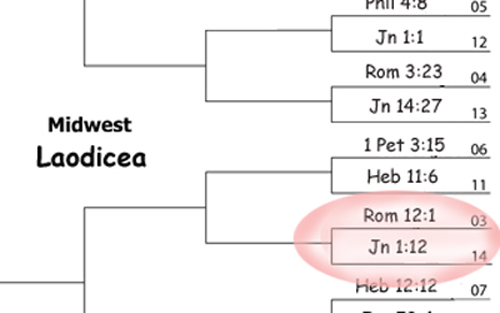 …(12:1 versus 1:12) – that's kinda neat.
My Hebrew professor in Seminary was very keen on the fact that 80% of the Bible is the Old Testament. But the New Testament has lots more teams in the tourney. It's like the New Testament writers figured out the value of a good sound bite – fewer "begats" and what not.
Then there's the interesting case of the East regional 3 seed versus the 14 seed…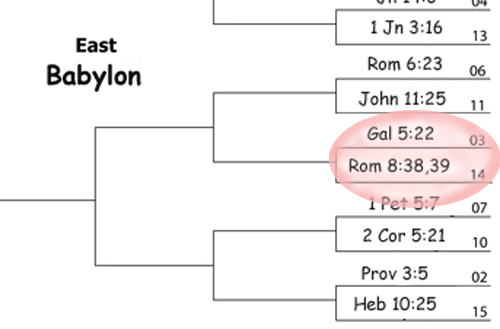 …the 14th seed actually has two versus because they kind of have to go together.
And in the NCAA tournament "Cinderella" stories always happen. The early favorite for the "Cinderella" team this year is the number 15 seed in the South Regional.
The 2 seed is classic but vulnerable – and the 15 seed has a little punch. It could surprise.
There's a saying in sports…
"That's why you play the game".
You just never know until the game is over.
Another interesting matchup?
The 2 vs 15 seed in the East regional…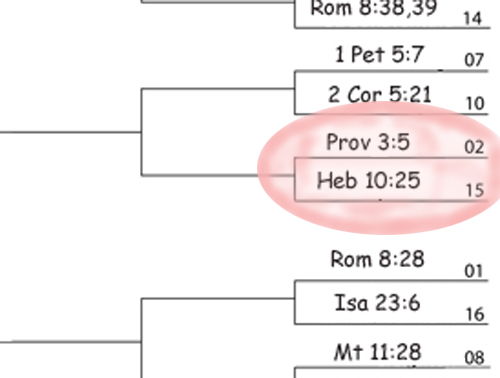 An OT verse against a verse from the NT book of Hebrews…
Hebrews being…well…pretty Hebrew-ish, you know? (ツ)
And look at that first round matchup in the South regional! The number one seed in the whole tournament against the lowest tournament seed…which just happens to be the very. next. verse. (3:16 vs 3:17)…and it just fell that way.
When I was all done placing the seeds I noticed the brackets still needed tweaking.
Since there were so few Old Testament verses for instance, I made it so no OT verse faced another one in the first round. For instance, in the South regional I originally had the number 2 seed (Gen 1:1) going against the number 15 seed (Ps 37:4). So I switched it out with the 15 seed from the Midwest bracket Philippians 1:6. It just seemed fair
Oh, and a quick factoid before I go.
In the history of the NCAA tournament a number 16 seed has never beaten a number one seed. There's a reason for that. The number one seeds are powerhouses. The 16 seeds barely squeeked in.
But…
"That's why they play the game".