Those are my March Madness Bible brackets.
I set up the seedings here.
I determined the tournament locations here.
I'll start my tournament coverage with the South Regional.
The top seed of the tournament against its bottom seed.
#1 (John 3:16) For God so loved the world that he gave his only Son, so that everyone who believes in him might not perish but might have eternal life.
Vs
#16 (John 3:17) For God did not send his Son into the world to condemn the world, but that the world might be saved through him.
I heart 3:17. Our Lord didn't come like the flood of Noah's day, or Sodom and Gomorrah with fire and brimstone. He came as Light in order to vanquish darkness. Our Lord made a way of just escape from the judgment that justice demands.
But if I have to pick one verse that explains the gospel – John 3:16 is really the go to. How can I not choose it.
The #1 seed, the heavy favorite moves on decisively.
Next…
#2 (Genesis 1:1) In the beginning, God created the heavens and the earth…
Vs
#15 (Philippians 1:6) I am confident of this, that the one who began a good work in you will continue to complete it until the day of Christ Jesus.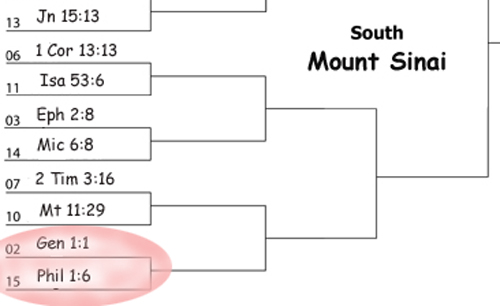 And I have a tournament epiphany! The #15 seed reflects back to the #2 seed. God created the world in perfection, and despite our sin ravaging his creation, he'll see his work through. I never thought of these verses being related.
Genesis 1:1 is cosmic in scale, and arguably the most well known words in the Bible.
But Philippians 1:6 is overflowing with hope. I have this life of mine. It's full of mistakes, failure, hurt…and Paul reminds me that it doesn't matter what things look like in the middle, or even near the end of a race – God will usher me, us,  across the finish…to win.
Even though without Genesis 1:1 there would be neither us nor Philippians 1:6. Today. I. need. hope! #15 defeats #2 and is the tournament's first "Cinderella" team.
Next…
#3 (Ephesians 2:8) For by grace you have been saved through faith, and this is not from you; it is the gift of God.
Vs
#14 (Micah 6:8) You have been told, O mortal, what is good, and what the LORD requires of you: Only to do justice and to love goodness, and to walk humbly with your God.
Ephesians 2:8 is so important. I can pile up a million good works – and one mistake disqualifies me from perfection and entering Heaven…but… the impossible is made possible "by grace" "through faith".
Then, we have Micah 6:8 – how God wants me to live my life – to do the right thing, to lean toward the pure things, to throw away my pride. I heart that!!
My heart almost pushed the #14 seed to the upset win. But Micah 6:8, without an understanding of Grace…is incomplete. In this battle of Grace vs works…Grace wins the day. The #3 seed moves on.
So far, for me, this little tournament is a heart pounder.
If you get a chance, I'd heart if you right clicked the brackets to save them – and began filling your brackets out.
This first round is the longest…and will continue on Monday…
please come back.