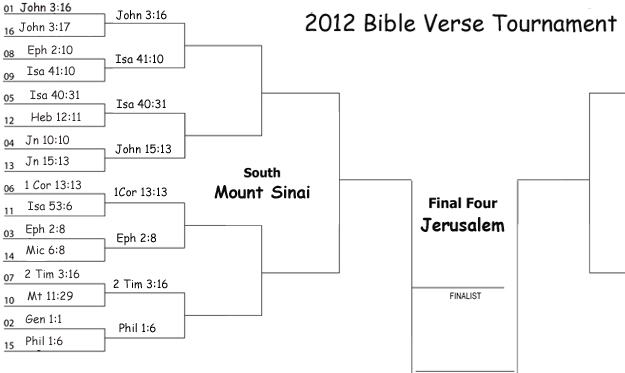 The Bible March Madness Tournament…
engaging me with Scripture…it's fun…
also, a surprisingly accurate spiritual barometer.
I set up the seedings here.
I determined the tournament locations here.
Bible March Madness got underway here.
Next matchup…
#4 (John 10:10) A thief comes only to steal and slaughter and destroy; I came so that they might have life and have it more abundantly.
Vs
#13 (John 15:13) No one has greater love than this, to lay down one's life for one's friends.
Abundant life…peace, contentment, joy.
I don't lay claim this gift often enough.
This makes me kind of sad.
But…
Six months ago today Sara died…
and God laid down his life…
so Sara is. still. alive…and with Him. .
This makes me smile through tears.
A second "Cinderella" verse emerges in the tournament. #13 upsets #4.
Next…
#8 (Ephesians 2:10) For we are his handiwork, created in Christ Jesus for the good works that God has prepared in advance, that we should live in them.
Vs
#9 (Isaiah 41:10) Do not fear: I am with you; do not be anxious: I am your God. I will strengthen you, I will help you, I will uphold you with my victorious right hand.
I am, we are, God's creation…potter and clay.
Our purpose…to demonstrate His love in time and space.
Isaiah wrote his verse for the Israelites just before Exile.
They were afraid, weak…and they felt abandoned by God.
So much hope in this verse!
I. Need. Hope.
#9 defeats #8 and is the first OT verse into the second round.
Next…
#5 (Isaiah 40:31) They that hope in the LORD will renew their strength, they will soar on eagles' wings; They will run and not grow weary, walk and not grow faint.
Vs
#12 (Hebrews 12:11) At the time, all discipline seems a cause not for joy but for pain, yet later it brings the peaceful fruit of righteousness to those who are trained by it.
For me, these two verses have gone together more often than I'd like to admit.
I mess up…God lifts me up…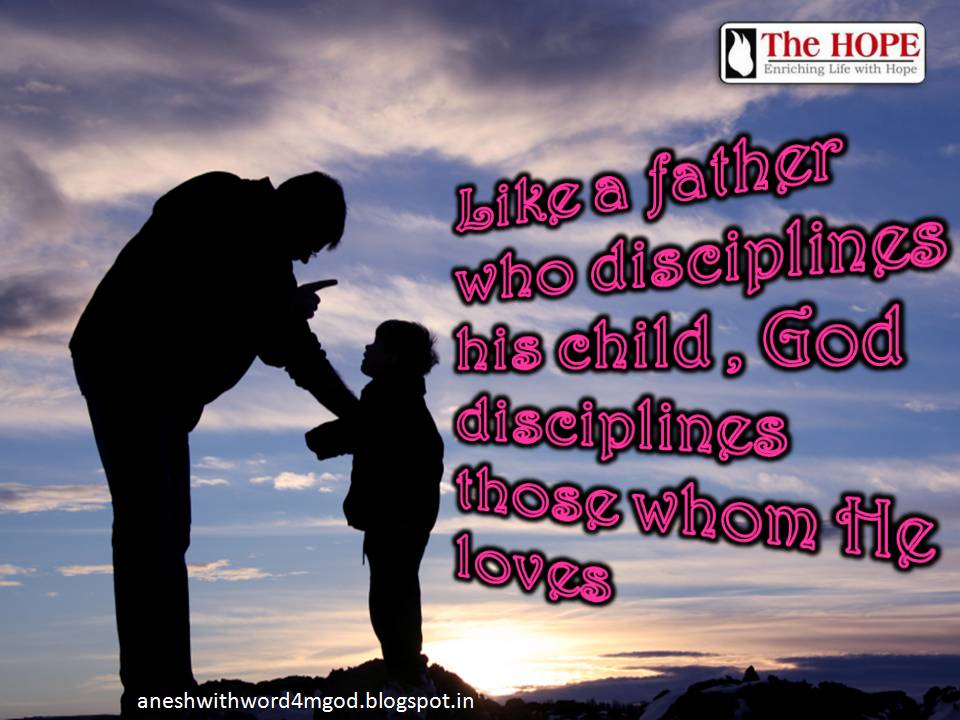 source
He both disciplines and strengthens me.
But as a baby Christian Isaiah 40:31 was the first Bible verse that I claimed as mine.
#5 overpowers #12 and advances.
Next…
#6 (1 Corinthians 13:13) So faith, hope, love remain, these three; but the greatest of these is love.
Vs
#13 (Isaiah 53:6) We had all gone astray like sheep, all following our own way; But the LORD laid upon him the guilt of us all.
We are hard to shepherd sheep…
all our guilt was laid upon the Lamb.
But…
love…
I heart love!
One day we'll need neither faith nor hope anymore…
because of the verse that comes just before 13:13 (1Cor 13:12).
There has always been…and will always be…love.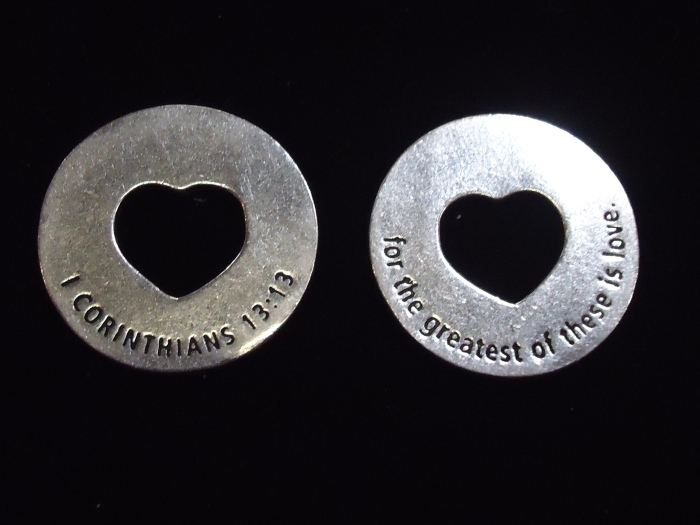 source
The #6 seed wins decisively.
And I really want to finish the South regional first round today. So next…
#7 (2 Timothy 3:16) All scripture is inspired by God and is useful for teaching, for refutation, for correction, and for training in righteousness
Vs
#10 (Matthew 11:29) Take my yoke upon you and learn from me, for I am meek and humble of heart; and you will find rest for your selves.
Taking on the yoke of our Savior is no guarantee of easy life, but a guarantee that we'll always hear, "Peace, be still". Yet… 2 Timothy 3:16 is the verse that tells us that Scripture is literally (in the original Greek) "God breathed". That's hard to beat.
#7 moves on.
And so my South regional first round is complete.
The NCAA tournament has a head start…
but our Final Fours should appear at about the same time.
There's more action ahead…
Please come back.