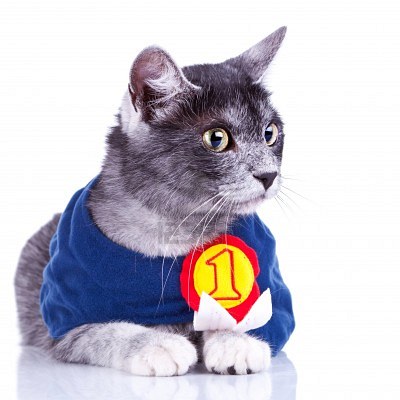 source
The tournament to decide my top Bible verse ever continues…
If you are new to the tourney…
I set up the seedings here.
I determined the tournament locations here.
The South Regional results are here, and here.
The West Regional recaps are here, here and here
The East Regional game summaries are here, here, and here.
The next match-up…
#3 (Galatians 5:5) For through the Spirit, by faith, we await the hope of righteousness.

Vs
#14 (Romans 8:38, 39) For I am convinced that neither death, nor life, nor angels, nor principalities, nor present things, nor future things, nor powers, nor height, nor depth, nor any other creature will be able to separate us from the love of God in Christ Jesus our Lord.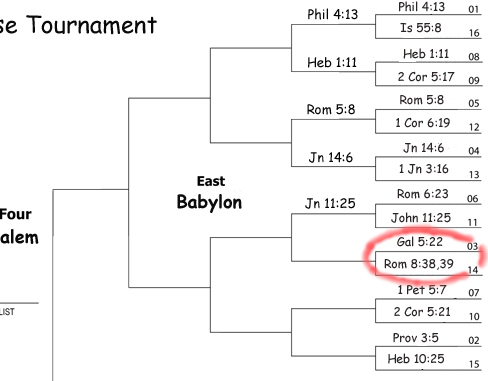 And today, I talked with God about these two…
#14…
Nothing can separate me from You, Lord.
You eliminate enemies to my faith…our faith.
You temper, energize and deepen my faith.
By. Your. Spirit.
Oh, how I have struggled at times for freedom…
from that which I don't want to be free.
I've turned my back or taken steps from You…
and You have always remained, waiting.
Everything changes all around You…
Angels…"principalities" (in other words, demons)…
the dimensions of time and space.
But in You is no shadow of change. (You'll heart reading this!!)
So constant You are that we always know where find You, even if we're blind.
Then there's Galatians 5:5 (#3), the higher of the two seeds, because there's so much important information relayed in so few words. I believe, we all believe now, because that's all we can do. No matter what we say, no matter how we feel, we can't "prove" heaven, hell, or any matter of faith.
I, we, have so much evidence on the side of our faith…
but in the end, it comes down to a choice…
a choice to believe what we cannot see. (Heb 11:1)
And what is this "hope of righteousness"?
That You, Lord Jesus, are God…
and that You lived and died…and live…
and You are always with us…in us. (Col 1:27)
You will come back to be the final judge of all right and wrong…
You will count us, Your followers, Your believers, Your lambs…as righteous…
You'll carry us where everything bad is gone and everything good is better…forever.
That's the "hope of righteousness".
And I now get the "grace" thing.
It's like my colonoscopy last week isn't it?
The anesthesia was like "grace" wasn't it?
And I received the grace by making the choice to have an IV thing placed above my wrist.
The IV thing is like…faith. And the anesthesia (grace), flowed into me through the IV thing (faith).
I receive grace…through…faith.
As good as it is for me to hear that Paul was convinced that nothing could ever separate him, and us, from You. I have to go with the answer to how we are saved, how we receive grace.
#3 defeats #14, and moves on to round two…
and the tournament continues…