I've gazed intently at the profound mystery that is 2 Cor 5:21…
how our sinless God, literally "became" sin. for. us…
for the last three posts…beginning here.
But…
However, the show must go on. I do have a Best Bible Verse Ever Tournament happening. 2 Corinthians 5:21 was the #10 seed in the East Regional, and it has an opponent…the #7 seed, 1 Peter 5:7…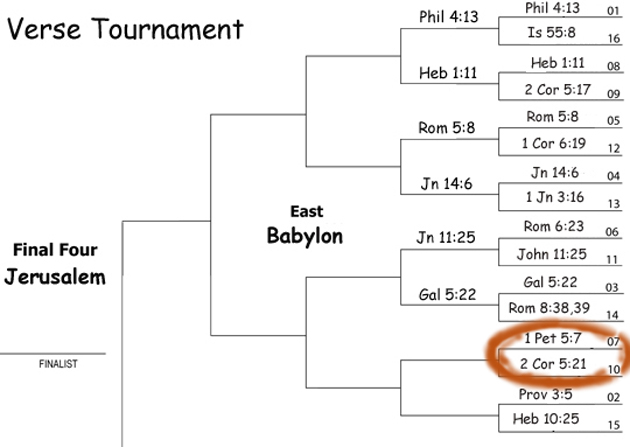 Cast all your worries upon him because he cares for you.
And it's a little unfair because Peter has stacked his bench by quoting Psalm 55:23…
Cast your care upon the LORD, who will give you support.
And there's something more…
Is see an incredibly intricate connection between the #7 and #10 seeds.
God took all of our sin…
nailed it to the Cross, with Our Lord…
thus, removing it from us.
I have to ask…
along with dying for our sin…
did Our Lord die for all of our worries too?
I've read the following passage hundreds of times,
and it has never spoken to me as it is right. now.
Look at the birds in the sky;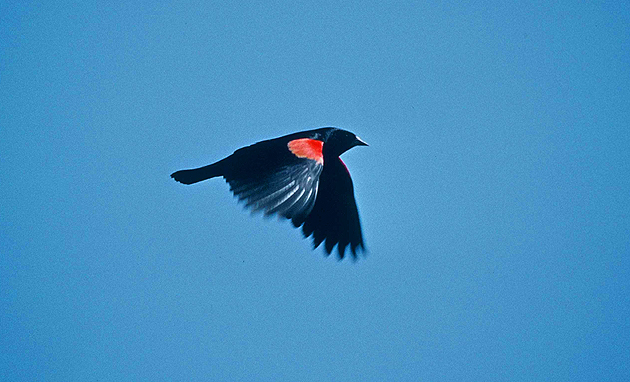 source
they do not sow or reap,
they gather nothing into barns,
yet your heavenly Father feeds them.
Are not you more important than they?
Can any of you by worrying add a single moment to your life?
Learn from the way the wild flowers grow. They do not work or spin.
But I tell you that not even Solomon in all his splendor was clothed like one of them.
If God so clothes the grass of the field,
which grows today and is thrown into the oven tomorrow,
will he not much more provide for you, O you of little faith?
So do not worry and say,
'What are we to eat?'
or 'What are we to drink?'
or 'What are we to wear?'
All these things the pagans seek.
Your heavenly Father knows that you need them all.
But seek first the kingdom and his righteousness,
and all these things will be given you besides. (MT 6:26-33)
And yet…
O me of little faith…
source
I worry all the time.
Jn 10:10, (the #4 seed in the South Regional) tells me…
Our Lord came to bring "abundant life"…
and yet I let worry steal so much of that abundance.
I find that in this head to head match-up…
we have a much more titanic battle on our hands than I thought…
Paul's exquisite and complicated little miracle of a verse…
against the words of David, Peter, and Our Lord.
This will take one more day to determine a winner.
Please come back.
Oh, and if you would like to catch up on any of the tournament…
I set up the seedings here.
I determined the tournament locations here.
The South Regional results are here, and here.
The West Regional recaps are here, here and here
The East Regional game summaries are here, here,  here and here.