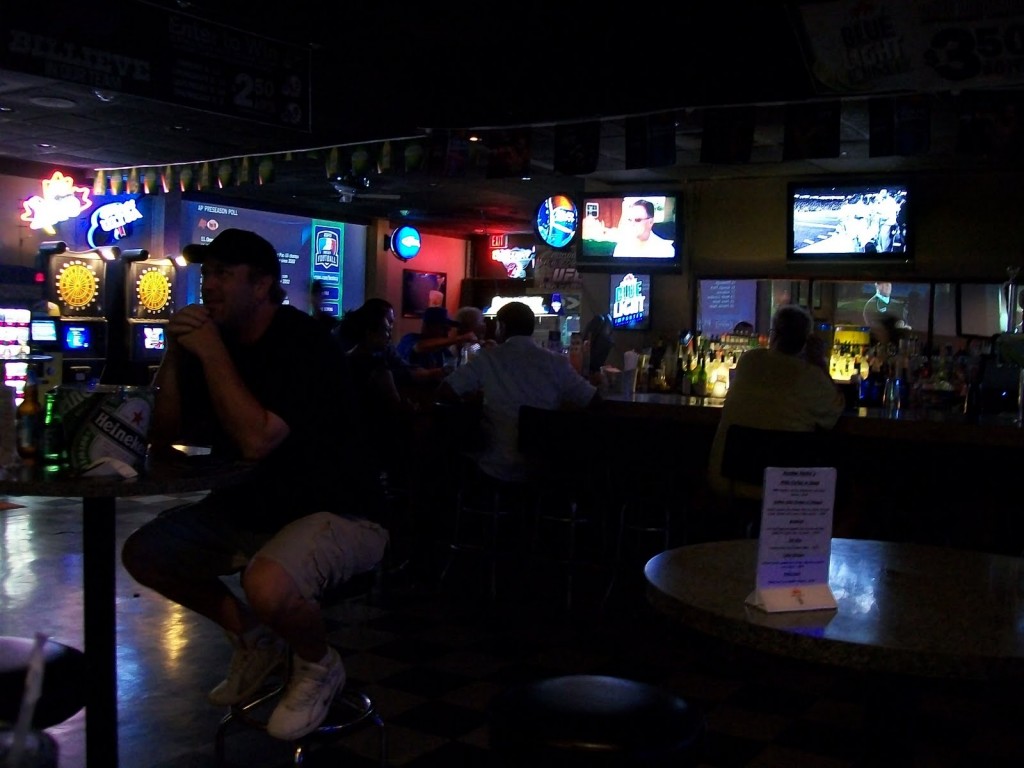 source
To say what I did, where I did, I'm lucky I'm still standing. To debate God in a bar, with six raunchy, rowdy, drinking men I'd didn't know – it's a risky proposition.
Part one of sharing the gospel of Jesus…in a bar…is here.
You kinda need to begin at the beginning to really catch on I think.
Anyway, on to part 2.
It reads like a script. It'll bring you out of our little Christian comfort zone. It's pretty raw, but it's exactly how the talk unfolded.
Me: You guys, sex may be great, but it's so much less than we could have had.
Sean: God was the one who made the clothes for them to wear in the garden Chris.
This was surprising. He'd been quiet so far – and was now refuting the alpha male. He didn't get the facts exactly straight – but his response is interesting. Still, the group would move along…
Tim: So is God just a perv like us? (aimed at Chris, the alpha)
(laughs)
Tyler: God is the original perv!
(more laughs) Then one of the guys pulls me back into the conversation.
Mark: So you, what's your name?
Me: Craig. (chewing on my cheesburger) Good to meet you.
(handshaking all around)

Mark: But this way better than sex? That's crazy talk.
Me: Maybe. (with a smile) But really, sex is just sex – just chemicals and hormones and brain impulses. If there is a God – he can do much better than that.
Tim: Rarely answers my pervy prayers…God (an aside, almost to himself)
Chris: Craig? Does that make God incompetent or ignorant?
Me: It makes God perfect, Chris. It makes all else…less than perfect.
Mark: Craig, maybe you're not doing sex right? (I nodded an acknowledgement – it's good to acknowledge people – give them some respect – no?)
Chris: Craig, all this because Adam ate a @#$%& apple?
Me: It was the knowledge of good and evil, Chris – far more than a piece of fruit.
Chris: Craig, yet supposedly God made this world? He made a penis and a vagina?
Steve: Those are just to multiply, Chris.
Wow! I thought. Help from the peanut gallery. Interesting.
Me: The big thing is that we could have learned Good and Evil a different way, a better way. But it is what it is. We play the cards we have.
Something inside told me to stay really calm during all of this. Things would get antagonistic, and baudy. But I'd stay surprisingly mellow. And some of these guys would continue to throw in support.
Tim: @#$&! (said to Chris) Only God could have had the genius to combine need to procreate with most awesome pleasure we can experience.
Imagine that, I thought.
Chris: So at some point he was like, "Ok, I'm gonna make a penis and a vagina, what is it going to look like?
(laughs)
And I'm not sure at this point if I would have continued the conversation, but…
Chris: Hey Craig?
They kept drawing me back in.
Chris: So everything is our fault?
Really?? That question!
Seems like a good point to pick up next time. No?
Please come back.