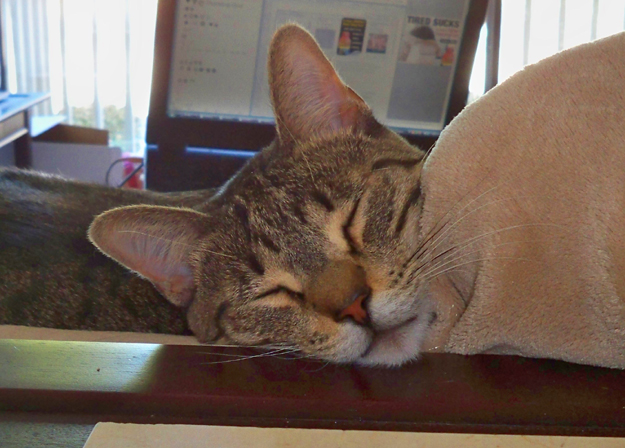 As I write this Laska the love Kitty…
who originally came to me looking for food…
because I know that look – and that me-now meow…
has instead chosen to sit by my side as I write.
He closes his eyes but he's not sleepy…
and he keeps opening them – as if to check on me.
I wrote this one year ago, on Deep into Love. as this world lost Sara. I couldn't stop crying. My smile factory made. me. smile. I'm remembering that time, the tears and the smiles.*
It's been an unrelenting hurricane of sad…the eye of the hurricane is the face of this cat.
How does he know?
It's 4AM now. I've prayed for Sara. My heart has room for little else.
The tears. Still. Won't. Stop. Falling.
I know I'll have some smiles ahead when I take the love kitty out for his morning walk. He'll pounce, chase after wind, climb trees (his squirrel impression) and pull me into the moment.
He's a smile factory…
a break in the clouds…
camped at my hip…
keeping watch over me.
"A time to weep, and a time to laugh" (Eccl 3:4)
Everybody should have at least one smile factory.
Of course, the minute I say the word o-u-t-s-i-d-e he'll know it's his turn. Until then it's patience – which, for a cat…not the norm. Even the love kitty has a strong me, me, me, and also me, streak.
Sara's got a smile factory too. His name is Riley. He looks like this:
In June of 2008 Sara wrote:
Have you ever seen a face exude more sympathy? I see this expression when he snuggles with me at least once a day. To clarify, I get the look once a day … the snuggling is non-stop around here. He's very co-dependant. And I just want to make him happy.
Now those with husbands and babies have other things hanging around your home to make happy. I have one. Sara has one. Someday I'll share my biblical argument that beloved pets go to heaven. This is one plank of the platform – they elicit love.
The weight of sadness is massive now…
and the smile factory lays there and looks at me.
He'd usually be attacking toilet paper.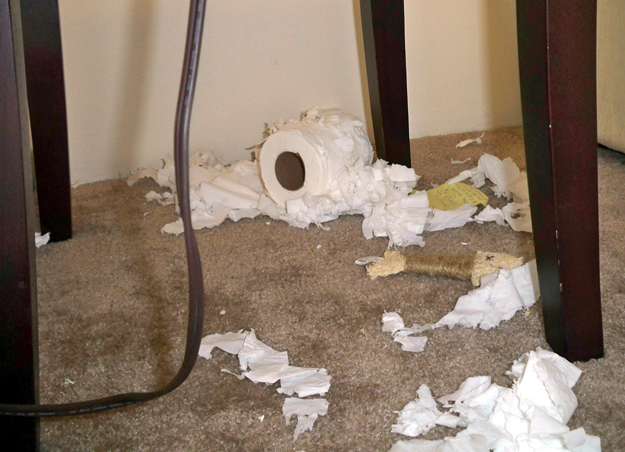 What makes him want to stay by my side right now?
Does God put that in our animals?
His eyes are wide…big circles…he's never seen me cry.
And as I type this he yawns wide, and stretches out his paws to my arm with a trill, and he won't take his eyes off of me. He doesn't realize that when I'm done posting this I'll say the magic word and all his compassion will disappear like chocolate on a dreary day.
But until I say o-u-t-s-i-d-e there he stays, gazing at me.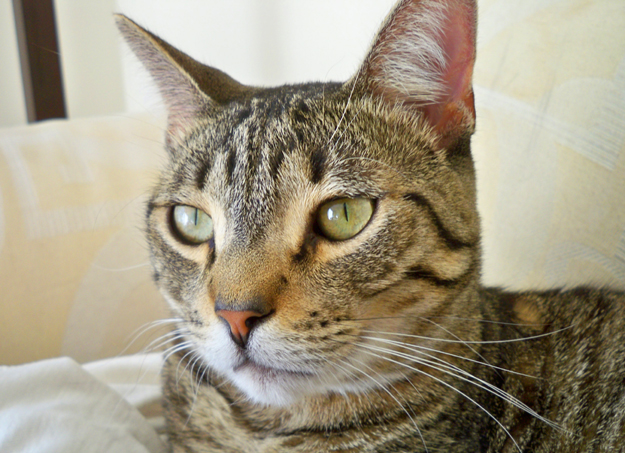 They make us love – these animals. They're like little love magnets, attracting love. It's a good line to have on a resume for heaven. No?
And now – the magic word…
and there goes the compassion…
like a bird set free from the cage…
and he races, paws blazing, to the door…
and out come the me-out meows…
and I smile…
He's a smile factory…
and everybody should have at least one.
Here are all of this month's Sara posts.
You might heart them as much as I.
In which it's the small things
 Love remembers when eternity touches time
 In which sorrow submerges joy
Love prays peace, courage, faith, and knowing
In which are "eternity touching time" thank you's to God
Love is eternity touching time
In which there is hard love
Love believes beyond the dark doorway