May I tell you about Sara's funeral?
She planned the service to the last detail right up to the final song, "O Happy Day". You could tell it was shaped by someone who understood she wasn't dying, but about to live in a brilliantly different way.
From the moment I found out Sara was at the end of life…
I prayed all day, every day for her…for courage, faith, and peace.
She had boatloads of peace, faith and courage…
and the way she designed her funeral service was proof.
Sara had recorded some songs. A few were played at her funeral. To hear her voice singing was unsettling but beautiful…comforting…perfect. The first song was "My Soul Desire"…
"Lord I do not seek to claim the glory. I only wish to be under your control…
an empty vessel longing to be filled by You…"
That was her life.
Why do I so often forget that it is to be mine?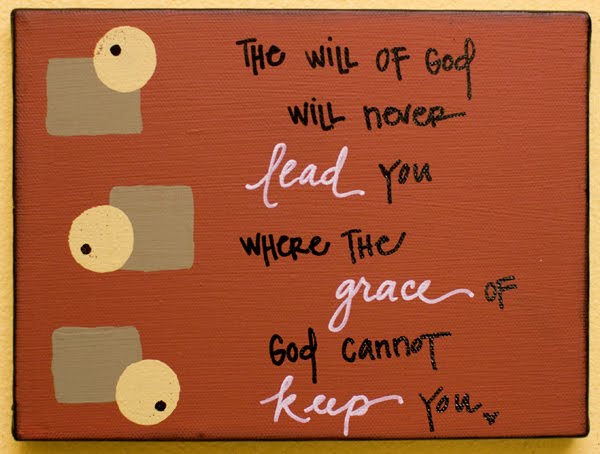 For Sara's final earthly outfit she chose a shirt that said…
"It's not about me."
The service was Catholic.
I'm not Catholic – just an off the rack Christian.
But the Catholic Mass is beautifully crafted.
Christian "religion"…handled with love…is humble devotion.
In every Mass there is a reading from the Old Testament…
one from the New Testament non-gospels…
and one from the Gospels.
The Old Testament reading, Isaiah 55, reset my heart…
tears of understanding and reverence were released…
and verses 9 and 12 broke me down and built me up.
For my thoughts are not your thoughts,
nor are your ways my ways…

Yes, in joy you shall go forth,
in peace you shall be brought home…
There is an eternal song that all of creation sings.
We each have our part.
There are no solos in the score.
Any solos are sad improvisation at best.
There is a tie between eternity and time…
time being created, just for us, by God.
We stand at that point of connection.
Love is the eternal bond.
Jesus is the only way.
♥✞ღ
Here are all of  the posts on life, the end of life, and Sara.
You might heart reading them as much as I.
In which it's the small things
Love remembers when eternity touches time
In which sorrow submerges joy
Love prays peace, courage, faith, and knowing
In which are "eternity touching time" thank you's to God
Love is eternity touching time
In which there is hard love
Love believes beyond the dark doorway
In which everyone should have at least one
Love is the faith of a child
In which there is keeping watch
Love is sometimes paradox
In which is rain, and tears in season
Love is greater than the universe, as are we 
In which is steady, intent, trudging toward the Light
Love reaches for the higher branches
In which is tapestry
Love is believing, living, blinking out, then still living
In which the fire should NOT die out