Translating Panis Angelicus from Latin to English…
…treasures lay hidden in the 800 year old poetry of Aquinas.
There are so many delicious layers to burrow through. But before scooping up the goodness, I thought it might be worth double checking the translation. If I have that wrong I can have everything wrong. So I'm going to go through it step by step…
and I was wondering…
maybe you might enjoy going through the whole translating process with me?
( The full translation of Panis Angelicus is here. )
Translating something like this from the original Latin can be wondrous. Not being fluent in Latin forces you to read as slowly as a shifting shadow on a sundial. Letters unveil vital puzzle pieces, and breathtaking mysteries can unfold with every word.
First there's the first sentence.
You can find a few translations of Panis Angelicus on the web. But if we didn't have them we'd just have to pick a bunch of words and go until they made up proper sentences…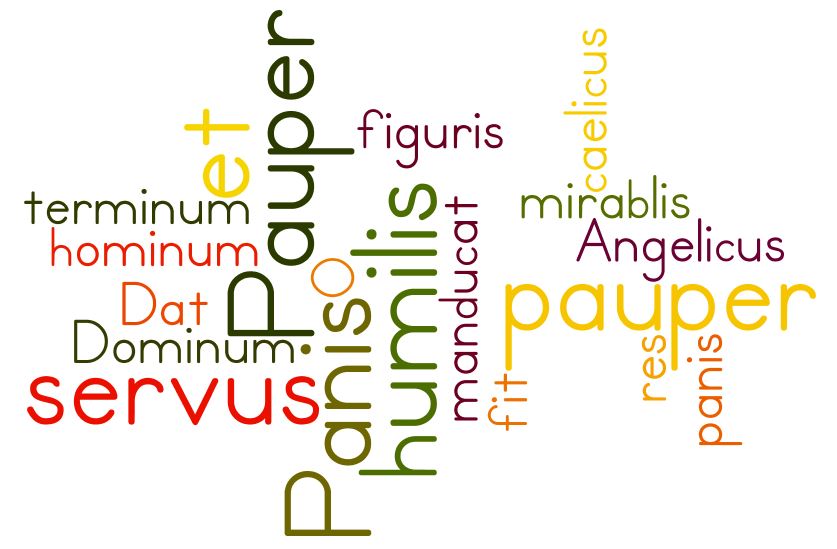 i.e…
verb…
subject…
direct object…
adverbs, adjectives.
With Panis Angelicus the first sentence is…
Panis Angelicus fit panis hominum
Literally "bread of angels becomes bread of humanity".
Now, how'd I get there?
If you don't like grammar, look away now ッ
There is more.
Please come back.