Would God ever mislead us?
He did it to a King of Israel.
He told Ezekiel he would do it to some Israelite leaders.
I don't see how I – and we are exempt.
If you missed parts 1 – 5 and would like to catch up, they are here, here, here here and here)
The story left off yesterday with God telling Ezekiel there were some wayward leaders coming to seek advice – and a combo of two conditions that might make us fit for a "God" misleading.
Now for these wayward leaders…
They were close enough to at least outwardly seek God's will. But we know from the verses that their hearts were "estranged" and they had "set up idols".
OK – bad enough – but there's more.
Not only had they been sinning – but all their thoughts centered on the sin.
The Hebrew verb for how they viewed their sin is a tricky one.
It has a double meaning.
Looking backward this is the verb of remembering – forward, the one of planning.
Their sinful life was literally constantly, "before their faces".  Past, present, and future sinning was permeating their life like the smell of garbage left out to spoil.
Never a good thing. Spoiled garbage always invites unwanted guests.
So under these conditions how did God deal?
In effect he tells Ezekiel, "Don't worry, I'll take this one."
4 Therefore speak to them and tell them, "This is what the Sovereign LORD says: When any Israelite sets up idols in his heart and puts a wicked stumbling block before his face and then goes to a prophet, I the LORD will answer him myself in keeping with his great idolatry. 5 I will do this to recapture the hearts of the people of Israel, who have all deserted me for their idols.'
Wow.
I've found in my life that there are always little bits of character I need to be working on.
Have I slipped into embellishing truth?
Have I been flying close to the flame of sin, thinking I can escape the fire?
Have I been operating on my own power and not His?
I've found that it's best to work on these weaknesses myself – not all by myself though – everything is best done with Our Lord.  But the thing is, the stuff that needs fixing? It's better that I get on the fixing. Because when God does the fixing he doesn't care so much for the velvet gloves.
It's been my experience that he's a straight line kind of guy.
He's a point A to point B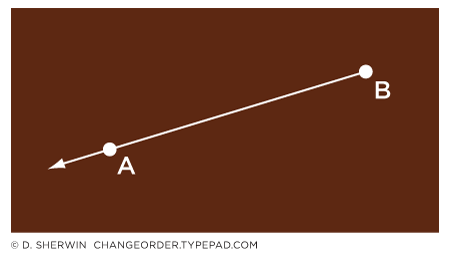 no rounded corners
get the job done – kind of guy.
And let me say, his straight line approach – it can hurt. I'd rather not have things hurt. There's enough hurt in the living already. I don't want you guys to hurt either. So I want us all to learn from this.
Repeat after me …
"I will fix my stuff" "I will fix my stuff" "I will fix my stuff"
Because we don't want God to give it – and us – a whirl.
Here, in this passage, God is about to get sraight line-y with these wayward leaders.
He says he will answer their questions himself.
When things go way off course spiritually, I think that God will personalize things – and not in a sing song-y type way.
In this case, probably on a hillside in Babylon, God told Ezekiel to teach those leaders…
… and us…
… this …
Sometimes, for wayward people, God himself will be the answer – and the answer will hardly be fun because it will be, "in keeping with his (or her) great idolotry".
All Biblical theory aside, everybody, I know this to be true.
So I know that if I meet these conditions again – and then "pretend" ask for God's will, the answer might be in person – and severe. I know this, because it was.
God sometimes brings the hammer down on his children in order to "recapture the hearts".
He recaptured mine this way.
He may turn on that person and make an object lesson out of him or her (vv 6-9).
Oh, how my life has been that!
How might this happen?
Now the verses get a really dicey…
That's for tomorrow.
God Bless.