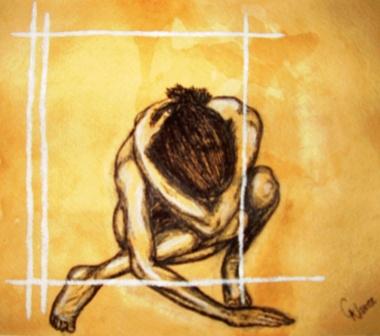 "But you dishonored the poor person."(James 2:7)
In this verse the rich are "oppressing" the "not rich". And the "not rich", in turn, are "dishonoring" the poor.
Both are wrong, and today I looked at the first one, "dishonoring".
Heres's the Greek word:
"ἀτιμάζω"
pronounced "ateemadzo" – it rhymes with antipasto.
For starters – here's how a whole bunch of different Bible translations have this word:
"insulted" (NIV)
"dishonored" (ESV, NASB, NAB [my preferred Bible translation])
"humiliated" (ISV – I heart this one!!  ƪ(◠‿◠)╯)
"despised" (KJV – I don't heart this one (◠_◠))
Now, I look at how this word was used all the other times in the NT. The contexts will give me an idea of what first century people thought this meant.
Mark 12:4 (the parable of the vineyard and the owner who goes away and sends messengers to find out how the evil little tenants are taking care of business) "Again he sent them another servant. And that one they beat over the head and treated shamefully."
Luke 20:11 (the same parable) "So he proceeded to send another servant, but him also they beat and insulted and sent away empty-handed."
JN 8:49 (one of those times Jesus was "having at" the Pharisees) "Jesus answered, "I am not possessed; I honor my Father, but you dishonor me.'" (this one was a surprise)
Acts 5:41 (when the Sanhedrin wanted to put the Apostles to death – but thought the better of it) "So they left the presence of the Sanhedrin, rejoicing that they had been found worthy to suffer dishonor for the sake of the name."
Rom 1:24 (Paul talking of how Pagans had messed up morality) "Therefore, God handed them over to degrading passions."
Rom 2:23 (Paul, talking of the Law, and its use – or misuse) "You who boast of the law, do you dishonor God by breaking the law?"
And there we have all the uses.
So why is my most favorite translation, "humiliated"?
Because humiliation is when we find the weaknesses of someone
and rip them apart based on these,
and leave them tattered and torn emotionally.
In our minds we raise our own worth by devaluing them
and we do it in the way that hits home the most.
We've all done it.
I have.
And my least favorite translation "despised"? I can see why they chose it, but it's an Old English usage of the word "despised". It may have meant "humiliated" back then – but it doesn't now.
So what's the "so what"?
I think of the Baker in the story (here and here) and how he was obliterated, and shamed, and left "in tatters" – in front of his family and friends.
And it's awful.
I changed schools a lot growing up. I alternated years, depending on the school, between "top of the social ladder" and "bottom of the pit" in popularity. I remember being at the bottom. I hated every day. I knew what was coming at me and I couldn't do anything to stop it. I knew I'd be mocked, and reduced "to tatters".
Have any of you guys been there?
This is what James is talking about in this verse – and it's cruel.
Lord,
I've been on both ends,
and I know how it hurts to be the object of this kind of cruelty.
I'm sorry for ever having done it.
I really am.
And I'm reminded now, how evil it is – how unlike you it is.
I don't want to be evil.
I want to be like you.
I have to respect people,
especially those who don't normally get respect.
Don't I?
Today I choose to do this, and not just for today.
I'll need your help. Please help me to be more like you.
Nobody left in emotional "tatters" – that's the thing.
It's a sneaky thing, subtle mostly. I'll need to watch carefully.
I'll need your eyes. Please give me better eyes.
Amen.
God Bless.