You know how people have little stone paths leading up to their front door. Like this…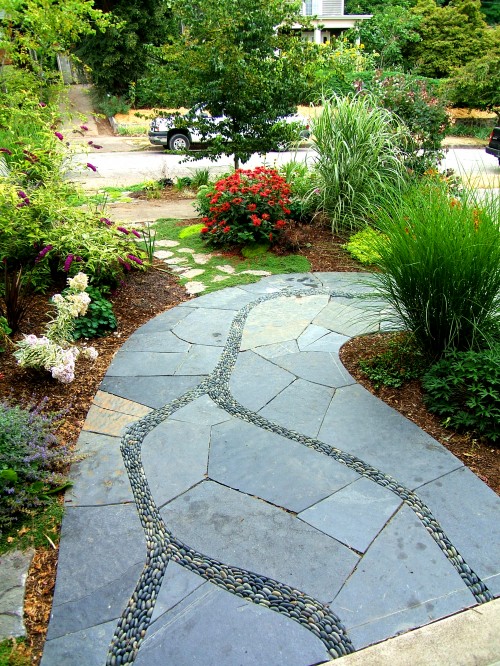 or this…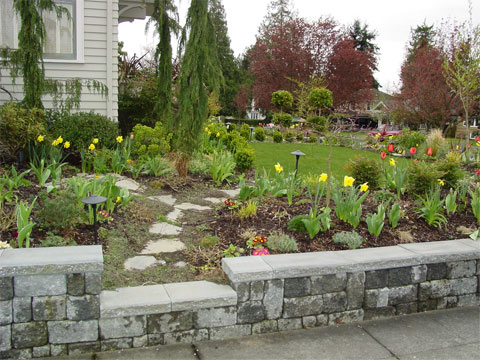 James, the brother of Our Lord, is world renowned for one verse. "Faith without works is dead". But it's not just this verse – the whole letter centers around that verse. And there are stepping stones leading to it.
This morning I thought about the steps leading to this door of James, and I looked back.
I'm not supposed to be person, "of two minds". (1:9)
If I believe…
then just act like I believe…
pretty simple.
"Be doers of the word and not hearers only, deluding yourselves." (1:22)
"Hearing" this word means I have to live it out,
not just listen to it,
not just know about it.
It's the message firmly planted in the soil of my heart
and reflected in all the things I do.
And I looked back on more stepping stones and noticed something too:
"If anyone thinks he is religious and does not bridle his tongue but deceives his heart, his religion is vain. Religion that is pure and undefiled before God and the Father is this: to care for orphans and widows in their affliction and to keep oneself unstained by the world." (1:26,27)
If I don't do that one little thing,
keep watch over my tongue
I have a useless faith.
I have an impure religion
if I don't care for the needy and vulnerable.
I have a defiled faith
if I don't keep myself totally unstained by the world.
Stepping stones.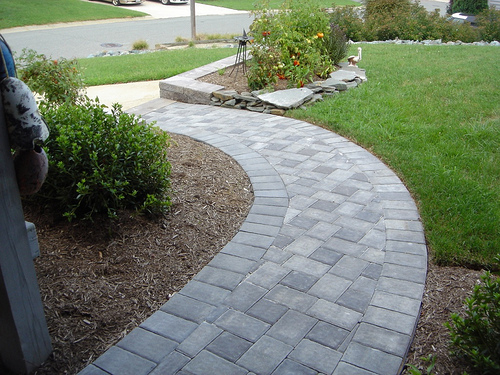 And if I'm judgy I set myself up in direct opposition to God and become a judge with "evil designs". (2:4)
That's no way to heaven
Then there is 2:8
"if you fulfill the royal law according to the scripture, 'You shall love your neighbor as yourself,' you are doing well."
But two things here.
•    A partial fulfillment of the law never cuts it. Rolling stops at stops signs are still gonna get a ticket.
•    And the word "law" – it's the word for the "whole" law. The word for a single commandment is different – and fits better here. I mean if I roll at the stop I don't get ticket for murder. The rolling stop is a violation of that law – not the whole law. It's either really bad Greek – or James is saying something.
And James is saying something
And 2:9 "But if you show partiality, you commit sin, and are convicted by the law as transgressors."
This one little sin convicts me of breaking the whole law – not just the single command?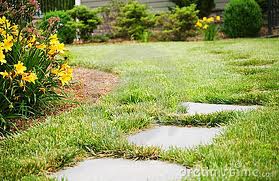 These are all stepping stones on the way to verse 17 – the infamous "faith without works is dead" verse.
It's all kind of dreary and extremely dangerous, this path to the door.
Except…
James knows of Grace.
I think he's just telling me that if I tromp all over the front yard willy nilly, stomp on flowers, uproot bushes and then knock on the door…
that door may not be opened.
I'm supposed to walk on the steps, not mess up the landscaping.
I will, of course, not always stay on the path. Grace knows this. God knows this. James knows this. But my intention has to be bound to the path. I might step on an occasional flower, but I don't intentionally go stomping with regularity on the flower bed.
These stepping stones have my attention
and there are more of them ahead.
And James isn't going to be sensitive.
Buckle up everybody.
God Bless