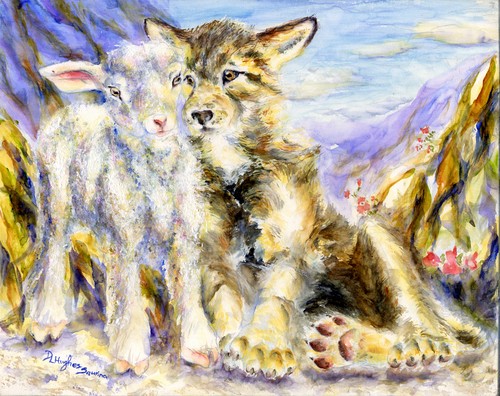 source
I've written for a week on Deep into Love of why I blog in this full of awesome Christian "mommy blog" community. I've also touched upon how I realize I'm out of place here, and how some have been, and still are, wary of this single, never been married male, barging into this charmed circle.
The lamb and wolf metaphor was born as my mind raced to imagine the most precious, yet vulnerable animals, and also a fierce predator. In a blink, the picture became clear. Lambs – all full of fluff and cute and gentle and good – contrasted by the menacing animal whose only redeeming quality seems to be that they transform into the lovable group of Bella protectors in Twilight.
And there was my metaphor…lambs…and wolf.
But my mind doesn't readily go down the Twilight path – I've seen all of ten minutes of one film and never read the books. But my mind always goes back to the biblical path. And this time it went back to wolf in the bible…and the picture wasn't pretty. The Bible sees the wolf as…
…the hunter, devouring prey in the morning and sharing the spoils of the hunt in dark of night. (GEN 49:27)
…catching and scattering lambs if a shepherd doesn't keep watch. (Jn 10:12)
…wicked and deceitful, sneaky and ravenous, and not at all nice to lambs. (EZ 22:27, ZEP 3:3)
…and leading lambs astray. (MT 7:15) (Acts 20:29)
… in short, lambs are good, wolves are not. (MT 10:16)
source
But yesterday I discovered this…
for the very first time….
and I was shocked…
because we ALL get this one wrong.
In the Kingdom of God, which is still "yet" to come…
but arrived when Our Lord was walking this earth…
and so…is here…in our midst…now…
it is not the lion who dwells with the lamb…
it's not the lion at all…
it's the wolf…
and it's not just in one place in the Bible…
but two…one near the beginning of Isaiah and once near the end.
Then the wolf shall be a guest of the lamb… (IS 11:6)
The wolf and the lamb shall pasture together… (IS 65:25)
And so I don't discount the weaknesses I have.
And I shouldn't, because as saved as we are…
as sinless as we are by the Grace of Jesus, our Lord and God…
we're still weak, we're still flawed, we still sin…
and if I'm not seeking hard after Jesus…
I can lie. I can mislead. I can scatter. I can hunt.
So Scripture speaks to me…
take care and watch over the tendencies of a wolf…
the weaknesses I know so well as a man.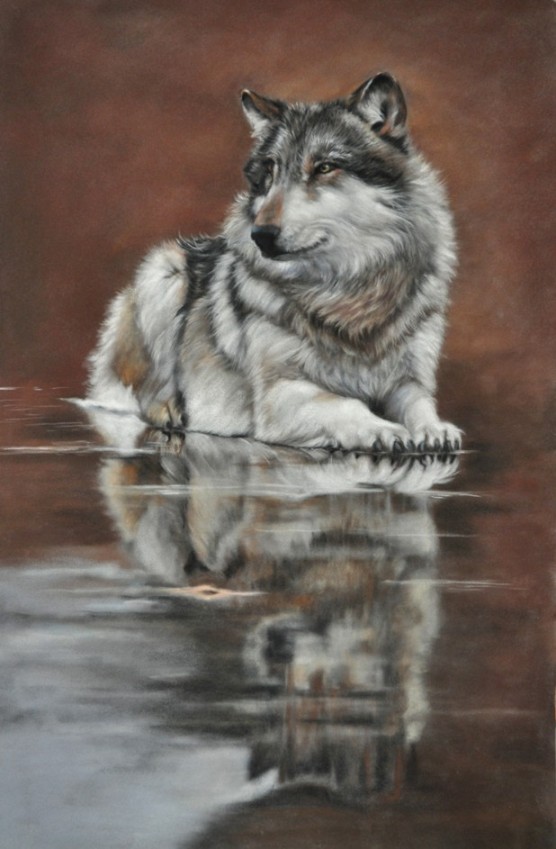 source
Scripture speaks to me…
seek hard after God…
as I have…
and make sure…
as I also have…
that I am the wolf of Isaiah.
The wolf of Isaiah knows that the pasture belongs to lambs.
He knows he is an honored guest of the lambs…
and should tread only where he is invited…
and be sensitive to where only lambs should gather…
and he knows he's not a lamb.
All this as he grazes alongside the lambs…
sharing the same food…
devouring together…insatiably…
the love of God and the Word of God…
and the wolf shall be a guest of the lamb…
and they shall pasture together.