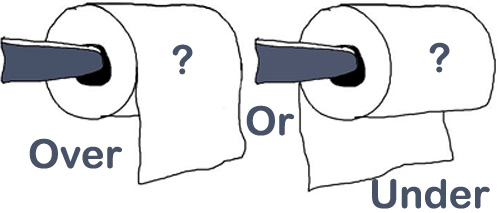 source
One way and the toilet paper is safe.
The other way it gets shredded…
and wanders room to room,
falling prey to the claws of Laska the Love Kitty.
So I'm wondering…
Who was right in Luke 10…
Mary, Martha, or both?
Mary comes off as the contemplative who would rather sit at the feet of Jesus then do dishes. Martha seems every bit the typical type A. I identify with the contemplative.
Now, I'm normally one for digging deep into all the nuances of a story. But this time I'm just going to read the story and see what hits me. Sometimes taking the "study every detail of the text" approach misses the forest for the trees.
I miss a lot of forests.
Also I can't get to the Seminary library right now.
Martha "welcomes" Our Lord (v38).
I'm thinking that it was Martha's house.
Mary, though a sister, was probably a guest.
Not only that, but Catholic Tradition believes her to be Mary Magdalene.
I know!!! Another time for that one. It would explain a lot.
For one thing it would explain why Mary would dismiss the cultural "no no" and cozy up to the feet of Jesus. In that culture, women, even Jesus' mom, would "keep to their place" – listening from a distance.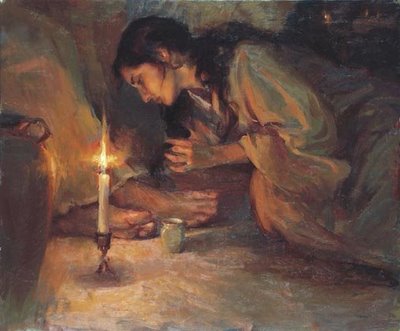 source
Mary acted every bit of a disciple to a rabbi.
So Martha is busy "serving", which would make sense if this were her home.
Mary is busy "listening", which would make sense if she were a guest – and kinda special.
All opinions aside, Our Lord says that Mary chose the "good" part.
Given different circumstances maybe Our Lord might have said that the "serving" was the better part. But in this place and time, for whatever reason, it was better for, at least Mary, to listen.
Our Lord hearts the "doer"…
he also hearts the "listener"…
a time for every purpose (ECC 3:1).
James, Our Lord's brother hearts especially the one who listens and then does. (James 1:22) I think Jesus was a lot like James. But in this one case, it was the time for Mary to "listen", and not "do".
Sorry if you're a Martha…
I'm sure Jesus didn't mean to insult you.
source
And for us Mary's…
this was just one instance…
sometimes we need to be "busy serving"…
or anointing the feet of Jesus (JN 12:3).
But here's the thing that catches me.
Our Lord calls Martha's name twice, then says
"…you are anxious and worried about many things."
This is what catches me.
These are two different words in the Greek.
I wonder if they mean different things.
Something important is there.
I'll be digging today.