"Evil can have no beginning but from pride, and no end but from humility. The truth is this: Pride must die in you, or nothing of heaven can live in you…for the one is death and the other is life"  Spirit of Prayer, Edition of Morton, Canterbury (1893)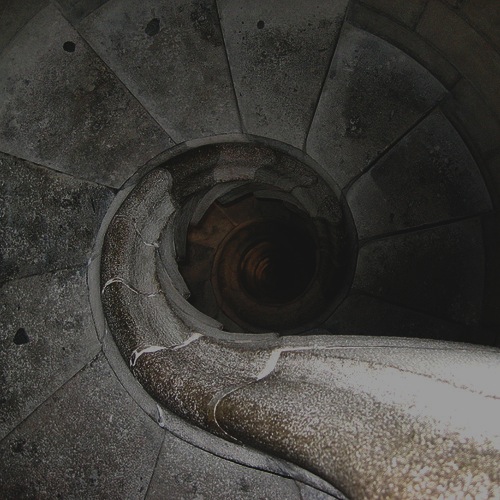 Off the beaten path from my study of James – and I find myself a staircase that spirals downward toward a very dark place. The 12 steps of pride, written by a French Monk 900 years ago still ring true.
How do I know this?
There was a time in my life that I stepped down each and every one – and it was pitch black near the bottom. I was fortunate to find my way back.
If this "French Monk" is a stranger, then you may want a little background before reading further. Step number one is here.
Now step number two…
"Frivolity" – Just like the first step this one sounds not so bad at all. Whats wrong with frivolity? Frivolity means levity and laughter, and doesn't the Bible say there is a time to laugh? (EC 3:4)
But it's not that kind of frivolity. It's the kind where I know what's important and I am "frivolous" with it. That makes it way different – and not so good.
Remember that anger thing I left behind a few days ago, in which, anger is bad, but not always, because Our Lord sometimes got angry? (here)
Well, here comes some anger I would not have wanted to be the target of, and if I'm "frivolous" in the way Bernard of Clairveaux means, then Our Lord is staring right at me when he belts out these words (MT 23:23-28):
"Woe to you, scribes and Pharisees, you hypocrites. You pay tithes of mint and dill and cummin, and have neglected the weightier things of the law: judgment and mercy and fidelity. (But) these you should have done, without neglecting the others. Blind guides, who strain out the gnat and swallow the camel."
I don't want to be in this spotlight – and it gets worse:
"Woe to you, scribes and Pharisees, you hypocrites. You cleanse the outside of cup and dish, but inside they are full of plunder and self-indulgence. Blind Pharisee, cleanse first the inside of the cup, so that the outside also may be clean."
I really don't want to be in this group, but how often am I? And it goes on…
"Woe to you, scribes and Pharisees, you hypocrites. You are like whitewashed tombs, which appear beautiful on the outside, but inside are full of dead men's bones and every kind of filth. Even so, on the outside you appear righteous, but inside you are filled with hypocrisy and evildoing."
There are the weightier matters of God's law of righteousness which get neglected too often. When mountains become molehills I take a step down the staircase of pride.
Our Lord, as he walked this earth, was not the totally warm and fuzzy guy we like to picture. He was that (warm and fuzzy) but when God's rep was being trampled, or a person vicitimized – you didn't want to get in his line of sight.
When I take important things of God and make them small, or when I take matters of little import and treat them as if the were vital – I'm a Pharisee on a slippy slope.
These steps, are insidiously subtle,
and thus their danger,
and thus their importance.
I'm so glad I get to study these steps anew,
because all of you are reading.
Thank you.
I want to know these steps well
so I don't ever stumble down them again.
God Bless