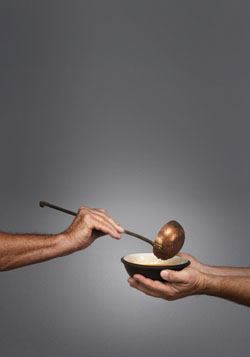 Yesterday was a two sentence parable to point to a larger truth. It was the second two sentence parable James has included in his letter we call the "book" of James.
"If a brother or sister has nothing to wear and has no food for the day, and one of you says to them, "Go in peace, keep warm, and eat well" but you do not give them the necessities of the body, what good is it?" (James 2:15,16)
The words, "keep warm, and eat well"
θερμαίνεσθε καὶ χορτάζεσθε
(pronounced, thermainestheh kai kortadzestheh – don't forget to sound Greek when pronouncing the words)
In the Greek the words are in the imperative, they carry a nuance of meaning in this context making them kind of a "wish" prayer. They aren't a heartfelt expression but more like a dismissive and automatic, "Well….OK…see ya later." It's a little snooty. It's a "have a nice day." without any caring to what kind of day the person may have.
My original response to this was that I should never walk away from a person in need – without helping. But James is practical. He knew that only Jesus, his brother could meet every need.
As always, I learn so much from reading my comments. It's an unexpected joy of blogging. If you write book or preach a sermon, you do all the talking. You gain nothing more than what you, yourself have learned.
But blogging – I get to share what I've learned – then learn more when you all share back.
It's a game of catch.
James, from every report of his character and every detail of this letter, is revealed as a practical guy.
Dawn, you commented, "Sometimes people go from one soft heart to another with their hands out. Sure they need money, they squandered the last money that was given to them. Giving them more money will not meet their need. What do they REALLY need, what will really help them move along in a positive way?"
Amen!
In the time of James the streets of Jerusalem were a friendly place for beggars, and sick people who couldn't work. The culture was close knit and lead to an understanding of their situation and people readily gave "alms to the poor".
But the Roman Empire, where this letter was addressed – those streets – they were the last place you wanted to be if you had "nothing to wear and no food for the day". You were more likely to be killed because you were blocking an alleyway than be given a helping hand.
James lived in one culture – he wrote for another – and then there is ours.
And Dawn, you are so right – and James, I think would agree.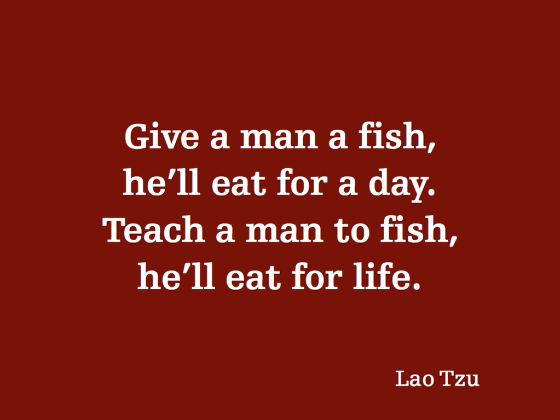 I know that Jesus healed so many. I know he helped many. I thought he just kind of helped every. single. broken. person he saw. I think now, though, that he didn't heal everyone.
And some he taught how to fish.
He was raised by the same Joseph and Mary that James was – he would have shared the practicality of a Carpenter and a peasant girl. The oldest in a family is generally the more responsible and practical. So if James was practical – I think Jesus would have been even more so.
I think Our Lord passed by some – on purpose.
I think that the demands of the perfect Law of Freedom that James writes of, the Law of Love laid down by his brother, mean more than just doling out help to everyone we meet.
It means caring enough,
to know a person well enough,
to know what help they really need,
to deal with the situation they are dealt,
or get out of a that situation.
I think this needs a little more thought.
I'll be hanging on this a day or two more…
God Bless