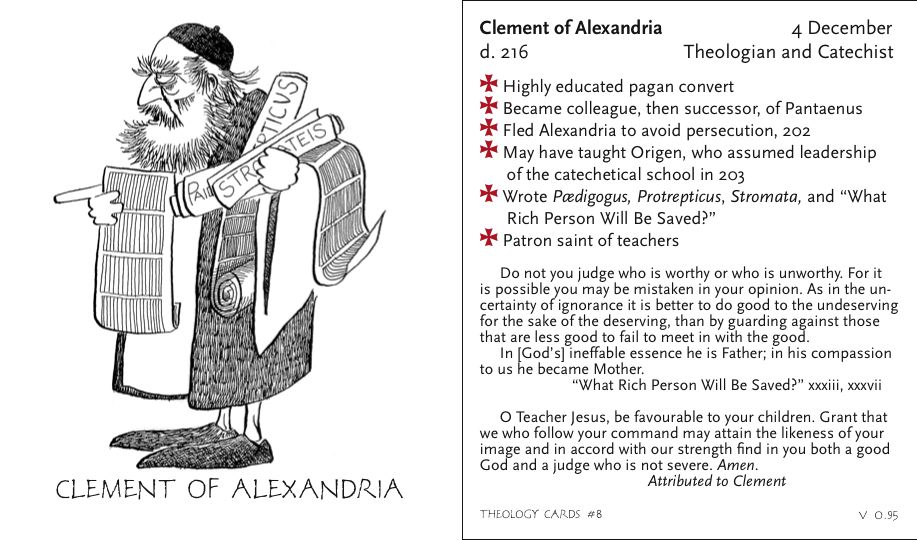 source
And now some of my favorite Clement of Alexandria quotes…
echoes from the second century…from the ancient church.
This is part 4 of the series on the best quotes from the Apostolic Fathers which began here.
♥✞ღ As a friend is not made by a single gift, the one who endures to the end will be saved.
♥✞ღ For we are saved by grace, but not without good works…and having been disposed toward the good we must acquire the desire for it and not cease in the pursuit of it…what assurance do we have of entering the Kingdom of God if we are not found to have holy and righteous works?
♥✞ღ For the one who lived badly, but repents, it is possible to overcome all sins committed….
one who does the greatest good but in the end wrecks his life, all the former are profitless.
♥✞ღ It is impossible to end bad habits at once, but with God and focus they are changed.
♥✞ღ Hasten toward our goal of peace. Hold fast to it, and look with spiritual eyes upon His patient will.
♥✞ღ Let us realize how near he is, and that nothing escapes him, not our thoughts, or the plans we make.
♥✞ღ We should think about the Messiah as God … for when we diminish him, we diminish our hope.
♥✞ღ We should not be deserters from God's will. Seek peace. Pursue peace.
♥✞ღ If God rewarded the righteous immediately, we would soon be engaged in business, not godliness…we would be pursuing not piety, but profit.
Oh, and remember last post when I said that Clement didn't always stay within the bounds of Scripture?
As inspired as his words were
on the subject of the Divine nature of Jesus
I think he colored just a bit outside the lines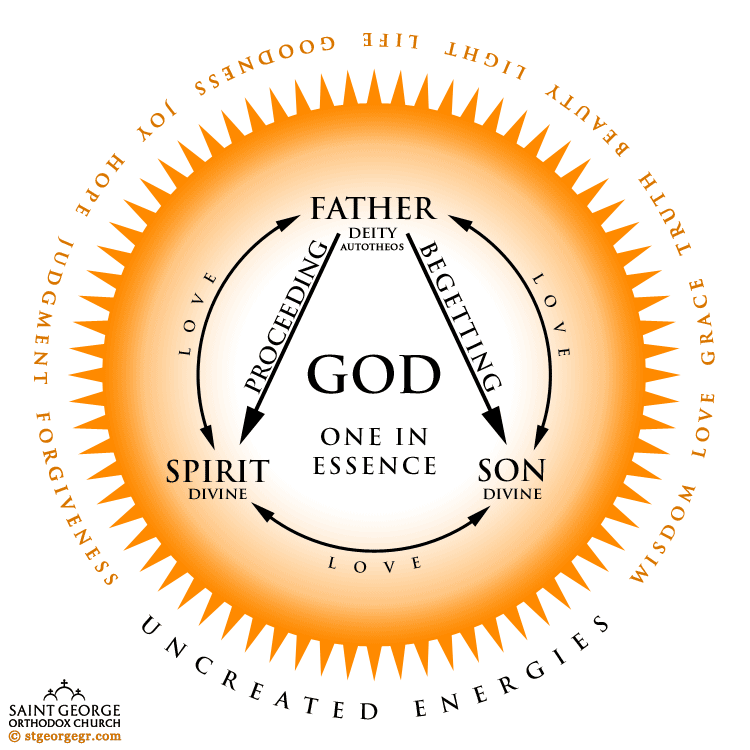 I love this graphic – except I don't like the distinction "Deity" for the Father and "Divine" for the Son and Spirit. Trinity in a nutshell? There are Three who are God – but only ONE GOD – and we will never BECOME God.
♥✞ღ In regard to the Savior…He ate, not for the sake of the body, which was sustained by holy power, but for those around Him who might think otherwise of Him, just as afterwards some thought he was a ghost.
♥✞ღ He was by nature dispassionate; and no movement of feeling penetrated Him, whether pleasure or pain.
So what of the temptation in the desert?
Why did Satan offer him bread?
And what of being tempted in every way as we are, but not sinning?
And he wrote this…
♥✞ღ The Word of God, became human so that  you might learn, from a human, how it is possible for a human to become a god.
That's why Scripture is Scripture…
and everything else…
no matter how ancient…
no matter how inspiring…
is. not.