So…
there's a little Basketball Tournament going on…
March…something or other.
Brackets are everywhere…like Spring pollen.
So I've worked really hard in my brackets.
But my brackets are different from all the others.
Mine are for…
The 2012 March Madness
Bible Verse Tournament…
I gathered the top 64 Bible verses…
I read surveys and threw in a couple of my own favorites…
'cause – you know – it's my tournament and all.
And some really good ones got left out…
because there was only room for 64 teams.
That was kind of sad.
Anyway…
Here's some "behind the scenes" stuff on the selection process…
There are two kind of teams when it comes to March Madness selection. There are the "shoe ins". Everybody knows they'll be in the tournament – it's just a matter of where they'll be seeded (i.e. John 3:16 and Romans 8:28).
Then there are the teams on the "bubble". They sit on a couch in the coach's living room and watch "Selection Sunday"…hoping, and sometimes praying to hear their name.  That would be teams like Joshua 1:8 or Hebrews 10:25.
And there were tough choices to be made.
I mean verses like 1 Cor 13:4-7 – the love verses…
or the Ten Commandments (Ex 20:2-17)…
they couldn't even be considered…
too many verses…
no clear standout…
and not the same if even one verse had to stay home.
And what about great verses…
James 1:5, "If any of you lack wisdom…"
Or Joshua 24:15 "…as for me and my house…"
It was a tough job (◔‿◔) but somebody had to do it.
Then came the seeding.
The first slots were the top four seeds.
Everybody wants to be a top seed.
It's the easiest route to the Final Four.
The top four seeds this year (keep in mind that all top four seeds have never made it to the Final Four – just sayin')
♥✞ღ.…. John 3:16 "God so loved the world…"
♥✞ღ….. Jeremiah 20:11 "For I know well the plans I have for you…"
♥✞ღ….. Romans 8:28 "All things work together for the good…"
♥✞ღ….. Philippians 4:13 "I can do all things through Christ…"
But things started to get really interesting when I filled in the 9th seeds…
because that's where each verse began to receive its opponent.
The first two that got paired were in the East Regional bracket (8 vs 9)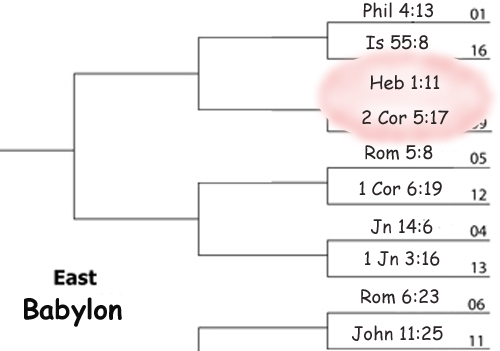 ♥✞ღ.….Heb 11:1: "Now faith is being sure of what we hope for…"
♥✞ღ….. 2 Cor 5:17: "Therefore, if anyone is in Christ, he is a new creation…"
Go ahead…pick a winner…
see how interesting this can be? (◔‿◔)
There's more "behind the scenes" stuff…
But in the meantime…
If you'd like…
hit that right click button on the brackets…
save it (interesting how we use that word "save". No?)…
and feel free to start filling them out.
Bring 'em to church maybe.
I really need you to participate for this to be fun.
Let the Madness…
¯\(◔‿◔)/¯ begin…